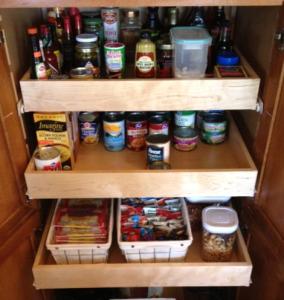 Is there any better place for the family to congregate than in the kitchen? Lots of ambiance, the hubbub of activity and certainly lots of nice smells emanating to lure you to this cozy spot. Perhaps what you need is a permanent solution for your storage needs. In these budget-conscious times, big sales of dry goods or canned items are a way to stock up on bargains to sock away for later. But where do you put this booty of great buys when seemingly the cooking accoutrements clamor for all available space?
A permanent pantry
The world can become a rather cluttered place, but only if we permit that to happen. There is never enough cabinet or closet space in the kitchen. If your room is large enough, a kitchen island is able to accommodate some cooking paraphernalia like pots and pans, or you could choose to suspend them from the ceiling, thus freeing up some cabinet space. Even the ordinary everyday cook who doesn't don a toque or fancy apron needs added storage space to create her favorite dishes for her family.
Create a kitchen pantry
Before consulting with a professional designer, first ask yourself what type of storage area you need and what items will be stored there? For example, would you store small kitchen appliances to free up your counter space? Perhaps you'd store the seldom-used good china or glasses where they won't get broken? Pantry shelves are often used just for storage – how nice would it be to store extra dry goods or canned items that are bought in bulk or on sale and have them always within reach? Wine lovers may like the idea of incorporating wine racks or a small wine cellar into a corner of the kitchen. Whatever type of storage that you picture in your mind and covet to control your kitchen clutter will determine the construction of your pantry, because a contractor skilled in pantry design will create orderly space in your kitchen which will satisfy your every storage desire.
Options for storage needs
Depending on whether you wish to display items on shelves or in cubbyholes, simply contain the items all in one place where you can review your stock at a glance, or just have a large closet where you can close the door and stuff everything inside to your heart's desire, a professional pantry design consultant can help make more efficient use of the kitchen.
How to contain your kitchen clutter:
Cubbyholes – If collecting cookbooks is your passion, special, sturdy shelving units can be placed in strategic areas around the kitchen. This shelving can be utilized for displaying your favorite or most-used cookbooks, but what about those books you rarely look at (but had to have)? Some shelving can be fashioned like a cubbyhole, deep and recessed for lining up several layers of cookbooks, or one layer of cookbooks but with enough shelf space remaining to open the books and read them from the shelf while cooking. You already know that cubbyholes and collectibles go hand in hand, so what better way to display your kitchen-themed trinkets or ornate bowls than in cubbies? At least you will be able to enjoy these items as they are in your line of sight, not tucked away in the cupboard and too difficult to lay your hands on. If you choose cubbyhole-style shelving, you may like to buy and fill up wire or canvas baskets which fit into the open spaces and can be just pulled out to access needed items.
Shelving – Different styles and sturdiness of shelving can be used to organize whatever kitchen clutter you wish to contain, or, however you choose to organize your stock. Heavier stationary shelving will accommodate some seldom-used appliances and lighter-weight shelving will enable you to store dry goods and divide them into categories as well as the ability to review those items at a glance. If you find yourself with oodles of noodles that are slipping off your regular shelves, you can have adjustable shelves and dividers placed within the shelving unit. To double up on shelf space, why not try adjustable or moveable shelves. These high-density shelving units slide behind one another and tuck away thus freeing up a lot of space yet accommodating loads of dry goods.
Closet – Often a kitchen closet becomes a catch-all place to store a stick vacuum or mop or extra cleaning supplies. Put the table linens in there? Good idea, but where? Sometimes you need multiple deep shelves and the ability to just close the door. Not everything needs to be on display for everyone to see. If you have the space in the kitchen, a good designer can help create such a closet that will maximize your storage area.
A versatile pantry
After you've chosen the style of kitchen pantry which best fits your needs, every effort will be taken to incorporate that pantry into the rest of the room. This means matching up trim, design and color to meld seamlessly with the existing kitchen. Have you always wanted a wine cellar? Well, you can have one; complete with wooden wine racks and stemware holders.
Whatever your style – rustic, cozy or modern and contemporary, cubbyholes can be tailored to complement your kitchen. From rustic wooden bins to hold root vegetables to glass or Lucite shelves accented with chrome just like your stainless steel appliances, the trends for pantries today have gone beyond a simple steel shelving unit in the basement or utility room. This could mean no more practically crawling into the bottom cabinet shelves or reaching blindly for items that have slipped toward the back of the cupboard.
Why not indulge yourself by having a custom-built pantry created that is fit for a prince or princess?