As the gateway to your home, your garage door is the largest and usually the main entrance to your home. For this reason, it's important to remember that this kind of home improvement also encompasses the safety and security of your home. Nevertheless, that doesn't mean that you have to skimp on style or appearance when choosing an overhead door. With many different models and styles to choose from, you can indulge your eye for design without sacrificing comfort or security with a new garage door installation.
Where Do I Begin?
The first thing to think about when looking for an overhead door is the kind of material that would work for your home. Typically, overhead doors are constructed from wood, fiberglass or steel. These materials are popular because they are both durable and strong.
For some people, climate and location will also influence their selection. For instance, if you live in a high wind area, you may need to install a wind load option with your garage door. Some people also choose insulated garage doors to keep their home more comfortable in hot or cold climates.
Whether you are looking for a new overhead door or a replacement for your home or business, we've picked out a number of styles to help make the process a bit easier.
Common Garage Door Styles
Raised Panel Doors: available in all three materials, it is up to you whether you want your panels to be short or long. Raised panels give your garage door some definition, adding a bit of style and depth to your exterior.
Recessed Panel Doors: a pretty traditional style seen in many homes, recessed panel door are usually made out of wood or steel. People also order them with insulation as well.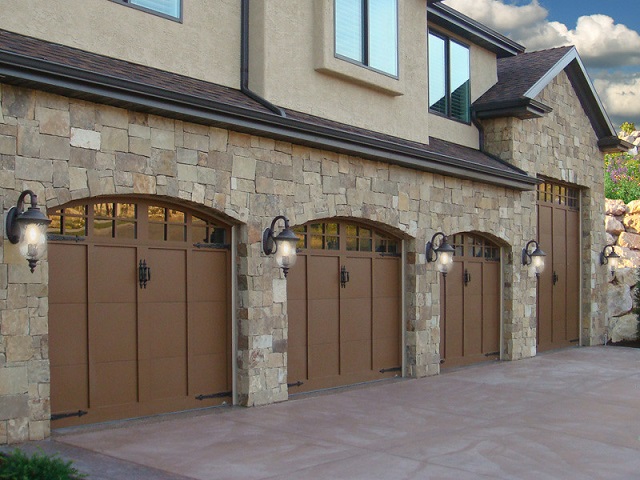 Carriage House Doors: if you want to add a bit of elegance to your home, you could try carriage house overhead doors. Available in steel, fiberglass or wool, these doors can really make a statement about your home's exterior.
Flush Panel Doors: flush panels have clean lines, resulting in a more contemporary look. Usually, they are made from steel and are installed in newer residences.
Contemporary Doors: speaking of contemporary, people wanting a custom design are usually looking for something modern that they haven't seen on other houses. For this reason, they may request anything from full view to partial or even frosted glass for a modern design that boosts their property's curb appeal.
Common Garage Door Repairs
If you already have an overhead door or are about to have one installed, it helps to know about the kind of repairs that many people encounter.
Busted or Detached Cables: if your garage door is hanging from one of its ends, then you probably have a broken or detached cable. The cable regulates the garage door pressure for smooth operation while opening and closing. Therefore, it is important to replace a cable immediately if it's busted or worn down. A snapped cable can cause very serious injury, vehicle damage or even death. This repair should be performed only by an experienced garage door technician.
Malfunctioning Garage Door Opener: there are a number of things that can go wrong when an automatic garage door opener is not working properly. Among them are the door not opening or closing completely, the door opening but not closing, a lack of response from remote or wall control panel, or the door reversing while trying to close. Fortunately, a professional will be able to sort out this type of issue fairly quickly.
Broken Door Panels: many people experience broken door panels at some point. The trick is to find out how serious it is and whether you need to replace only one panel or the entire door. Problems can occur when damage to a lower panel also involves damage to other parts of the door. Fortunately, many companies can match a garage door panel, thereby saving the owner the expense of a complete door replacement. If two or more panels are broken or warped, it is usually best to replace the door.
With so many options to choose from nowadays, finding a residential garage door that is both functional and aesthetically pleasing should not be a challenge. If you can't find what you want in stock, many companies will be happy to custom design an overhead door to suit your needs. Furthermore, it's also important to maintain a relationship with a dependable overhead door installer for the different maintenance and repair issues that can crop up over the years.