With summer around the corner, hosting outdoor gatherings is a great way to connect with friends, family, and neighbors alike. After a long winter indoors, people are excited to embrace the outdoors for cookouts, pool parties, picnics, and more.  Since the kitchen is the heart of the home, bringing all of your cooking supplies outside with you is a tall order, unless you have an outdoor kitchen.  One of their great advantages is that they are customizable  without having the typical indoor restrictions such as ventilation or lengthy construction times.  Here are 5 ideas to make your outdoor kitchen the best it could possibly be.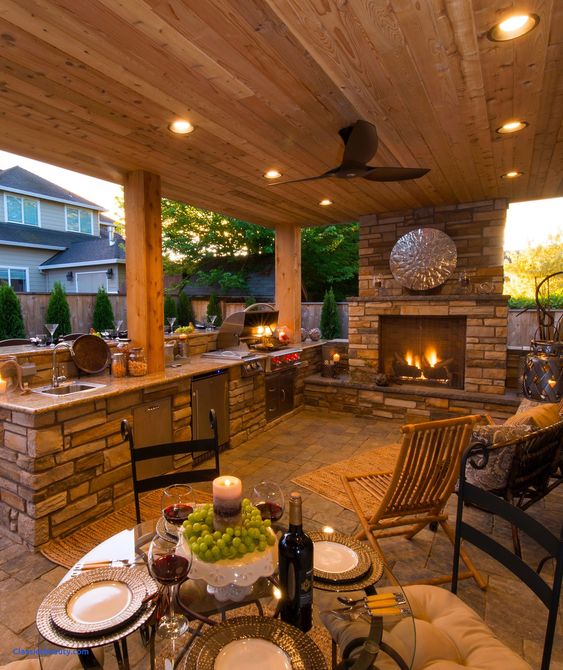 Fire Pit/ Fire Place
Something about being able to relax your eyes against the sight of an open flame with friends is a fundamental part of spending summer nights outside.  Maybe they bring you back to simpler times of roasting marshmallows and making s'mores. Luckily, these activities are only a couple of logs away.  Installing a fireplace or fire pit is a nice centerpiece idea for an outdoor kitchen because it's a great place for everyone to gather.
An Outdoor Bar
Given that the average kitchen doesn't have its own bar, this addition is a great way to capitalize on your outdoor space.  Fortunately, when designing your outdoor living space, you can usually find room for a nice sit-down bar with all the necessary features and appliances.  It can be as simple or complex as you see fit; but, as long as you have a place to store and serve alcohol, you have the makings of a nice outdoor bar.  However, if you desire to go above and beyond, additional outdoor appliances can be installed. A wine cooler, for instance, is a great way to keep your wine bottles properly chilled during the warmer months.  Or if you prefer your drinks especially cold, installing an ice cube maker is a great addition for all of the margaritas, piña coladas, and other drinks you want to enjoy frozen or on the rocks.
The Kitchen Sink
Not to be overlooked, the sink is arguably the most important feature of the kitchen to maintain cleanliness, and have access to drinking or cooking water.  Installing a sink will definitely maximize the convenience of cooking outside and the cleanup that follows.  It's important to note that you may need to get clearance with the town's health department prior to its installment.
Cooking Appliances
Depending on your favorite methods of cooking, there are a number of outdoor appliances that you can choose to add to your setup outside.  The grill is an absolute staple for outdoor cooking. And with a great kitchen to frame it, you can opt for larger, more complex grills to hold more food. However, there are also lesser utilized options to explore such as a pizza oven.  Installing a pizza oven is a perfect option for skipping out on delivery and making hand-crafted pizzas (which is sure to be a crowd-pleaser for adults and kids alike!).  Another great option to add to your outdoor space is a deep fryer. Trying to crisp up your food by frying indoors can make for a smoky kitchen and  can smell up the whole house for days. But with unlimited ventilation from the sky above, frying outdoors is a lot more convenient.
Surrounding Area
Another key feature of a beautiful outdoor kitchen is the backyard as a whole.  Whether big or small, there are many landscaping elements to add to your outdoor space that really tie the scene together.  Whether it's installing an inground pool or adding patio furniture, all are great additions to your outdoor living space.  There are also ways to prolong its use by making it more effective against the elements.  For example, adding an outdoor heater for the colder months or an awning to protect from the rain.
Adding an outdoor kitchen is a great way to enjoy the outdoors with friends and family as well as to bring life to your outdoor living space.  When you add up all of the elements you love about cooking and the outdoors, combining them into one experience is bound to be memorable.