As soon as the weather gets a bit warmer, people start thinking about how they can enhance their outdoor living space. One of the best ways to enjoy your outdoor living space day or night is by adding a TV and speakers to the area. There is, however, more to it than simply installing a TV and sound bar outside. Fortunately, as technology has changed, outdoor entertainment has become more affordable than ever. Whether you are interested in a TV mounted above a fireplace or a sound system integrated into your landscaping, there a few decisions you have to make before proceeding.
Choosing Your TV Type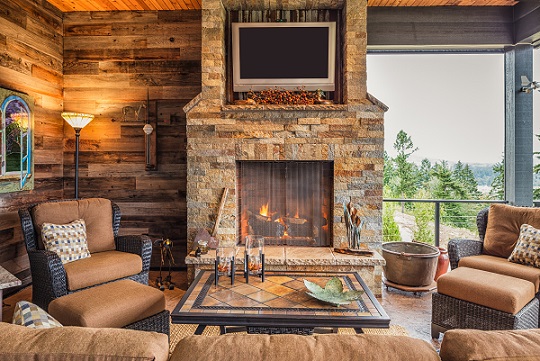 The climate can be very tough on electronics depending on where you live. Even when a TV isn't directly exposed to the elements, there will still be extra wear and tear from being outside. Moisture in the air in addition to dust and pollen can wreak havoc on the sensitive electronics found in modern TVs.
Essentially, you have two choices for your outdoor TV selection. You can buy a standard TV for a lower price with the understanding that you will eventually have to replace it. Or you can pay more for a TV specifically designed to withstand the elements.
Some outdoor models are not only water resistant, but they can also handle extreme cold and high desert heat. Another aspect many people don't take into account is that outdoor TVs are usually brighter, so that they are still visible in the sun.
It's also possible to put together a hybrid solution whereby you place a regular TV inside a weather-sealed cabinet. This is a more affordable solution in which the TV is protected from the elements with fans to keep it from overheating.
Outdoor TV Mounting
Although a flat wall mount is pretty standard for indoor TVs, outdoor setups often cater to a greater mix of seating arrangements. For instance, they can be mounted above an outdoor fireplace or under a shelter such as a pool house. For this reason, it helps to use an arm mount or a ceiling-down pole that can turn and tilt. Some people opt for a mount that lets you raise and lower the set to an optimal viewing angle. This is especially helpful when trying to avoid direct sunlight.
Audio System
Since the audio on most TVs is rarely strong enough for most indoor settings, adequate sound becomes even more of a challenge outdoors where there's plenty of ambient noise and few walls to reflect sound. Consequently, a separate sound system is all but required for an outdoor TV setup. While adding a sound bar may seem like the perfect solution, it is also subject to the same type of weather issues as an indoor TV. However, a nice pair of weatherproof speakers should take care of any sound issues.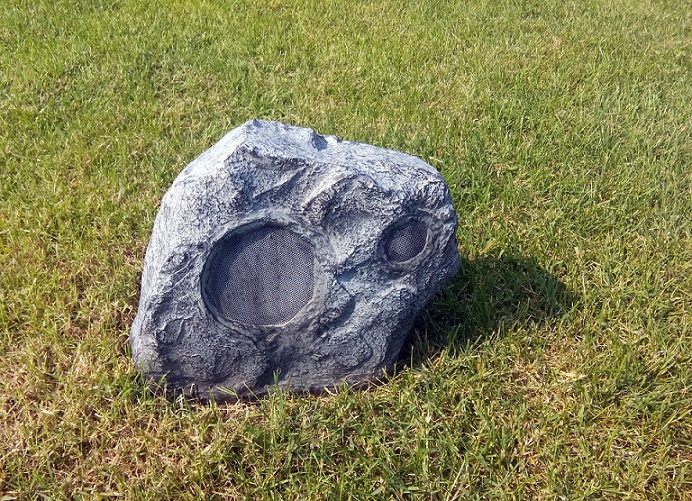 If you have a covered outdoor space, in-ceiling speakers will fit in perfectly. If they are moisture resistant, they will also be able to withstand the humidity. However, many outdoor speakers are weather-resistant instead of weatherproof. In other words, they will require some shelter. If your eaves are near your deck or outdoor entertainment area, you can mount speakers underneath to shield them from the rain. As long as you don't place them too high above your listening area, they should work fine.
If you prefer to place your speakers more discretely around your property for better surround sound, there are disguised speaker options as well. Indeed, many people purchase weather-resistant speakers that look like planter or rocks to blend with the outdoor landscape. You should also do yourself a favor by hiring a professional audio visual installation company to make sure that you get the best design and setup for your property.
Outdoor Entertainment System
When the weather is beautiful, there's no doubt you will want to take advantage of your outdoor space. And one of the best ways to increase your quality time outside is by installing a TV and sound system. Not only can a TV help you entertain while firing up the grill, but you can also catch a game later on ESPN or your favorite film after the meal is finished.
Adding speakers will both enhance your outdoor TV experience and enable you to listen to your favorite tunes through a streaming service like Pandora or Spotify. Furthermore, if you enlist the help of a professional, it will be easy to make the outdoor entertainment center of your dreams becomes a reality.