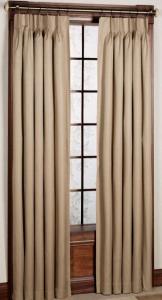 One of the most important tasks of your windows is to save you money. How are they supposed to do that, you ask? Simple. Besides providing a means of keeping inclement weather on the outside of your home from getting on the inside, windows allow in natural sunlight which cut down on electricity usage. They also allow cool breezes to get inside your home in summer that help to make your home comfortable on hot days so you don't have to crank up the AC. They also keep the cold out in winter that could freeze your tootsies off and break off that cool mustache it took you so long to grow. These are just a few jobs your windows are tasked with performing on a regular basis, and every one of these duties is designed for a many-fold purpose, including saving you money on your monthly outlay. Following are tips on increasing energy efficiency in various areas of your home, especially when it comes to your home's windows.
Adding film insulation
Film insulation can be found in home improvement or hardware stores in convenient kits that make it easy to install. These film insulation kits typically include a plastic shrink film that you can apply on a window's interior frame with double-stick tape. After applying the insulation, you'll have to use a hair dryer to heat the film in order to remove all wrinkles as well as to shrink the film to make sure it fits the window securely and tightly. Window film insulation works pretty well for insulating out the cold air. Additionally, it's fairly inexpensive and not hard to apply. However, it's important to note that film insulation can leave a rather unattractive appearance on a window, and it can block both heat and light.
Installing weather stripping
Rubber weather stripping or sealing can also be found at hardware or home improvement stores. Weather stripping is available in self-stick rubber that homeowners can cut into long strips that will fit whichever windows they're applying it to, after which these strips will need to be peeled back and stuck around the edges of window frames over areas that can leak air. This process will close any gaps that can occur on a window's frame and will aid in keeping out drafts. Weather stripping is effective and inexpensive. Additionally, it can be cut to fit any window. It's important, however, to be extra cautious when peeling rubber weather stripping away at the end of the season, as it can damage paint and leave a residue.
Choosing the right type of glass
The type of glass in a window can make a big difference when it comes to its insulation capability. That means it can make a big difference in your heating and cooling bills. Single-pane windows allow in heat and light, but they aren't nearly as effective as other types when it comes to preventing air from seeping in or out. Double-pane windows contain air spaces in between panes that can slow the passage of heat through windows. Triple-pane windows are very effective at insulation. Some types of double- and triple-pane windows have air spaces that are filled with argon gas. This makes them exceptionally energy efficient.
Adding solar window screens
Solar window screens are effective at blocking heat gain that passes through glass windows. Solar window screens are designed to cover the outside of a window much like a standard window screen. However, solar screens can be more efficient at blocking heat in summer. They typically fit over an entire window in order to get the best heat-blocking benefits. Solar screens are most popular in metal or fiberglass materials. Metal solar window screens are constructed with slats that absorb heat and then distribute it back into the air. Fiberglass screens are constructed of a fiberglass mesh material that blocks heat and then radiates it back outside.
If you've got old windows that are in disrepair, you might as well toss your wallet out those inefficient windows right now. 'Cause if they're not working properly, that means they're not performing all their many important jobs to their fullest potential. And what, exactly, do you think would happen if you didn't perform your job to your fullest potential? Your boss would likely kick your inefficient self to the curb … and that may just be the answer for your Baltimore home's deficient windows as well. Windows that don't perform optimally cost homeowners a lot of money on monthly heating and electric bills. If you're looking into window replacement, contact a top window contractor in Baltimore to learn about how replacement windows can save you money.