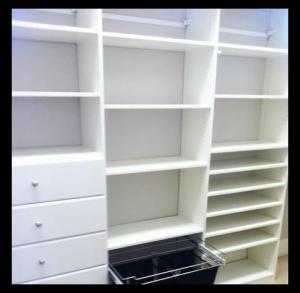 Imelda Marcos and you share a common hobby – you collect shoes.
Long before social media was prevalent, the trending topic was Imelda Marcos and her collection of some 3,000 pair of shoes. Many people wondered aloud how one person could amass such a collection of shoes – when would you ever get time to wear them all? But, perhaps you are not laughing at the collection of shoeboxes in the bottom of YOUR bedroom closet. Sure, you tried to tame your shoe collection with vinyl box-type cubbies or hanging shoe pockets. But, soon they were packed to the gills, so you resorted to labelled shoeboxes on the closet floor. Face it … your shoes have encroached and taken over the entire bedroom closet. The only solution is to quickly shut the door lest any escape and just resort to wearing one pair of shoes – period.
Does this sound like you? Well, then you know you need to tame that bedroom closet clutter and restore some semblance of order again. Where do you turn for help? Quit fretting and weigh your options. You're not going to move out just because your shoe collection has overwhelmed you. You don't need someone to come and clean and weed out your shoes or other clothes and accessories. What you need to do is make better use of the space you have. So why not secure the services of a contractor who specializes in closet design right here in the Shalimar, Florida area?
Please tell me how a closet design specialist can restore order to my bedroom.
If your cluttered closet has made you woeful, a closet design specialist can come to the rescue. Whether you want some simple re-organization or a walk-in closet to organize your in-season and out-of–season clothes and accessories, there is always something to fit your home and your budget.
There are two basic styles of bedroom closet designs. Their sizes are small and large, but in closet design lingo they are referred to as "reach-in" and "walk-in" closets, respectively. Reach-ins are built into a wall, closed off by a door and only deep enough to hang or store clothes on a single wall. Their dimensions are typically about 33 inches X 20 inches, where walk-ins are large enough to walk inside and store clothes on two or three walls plus enough room for a vanity table or a chair if you like. The approximately dimensions for a walk-in closet are 53 inches by 20 inches.
So, which works for you?
Sizing up your bedroom for your ultimate bedroom closet.
Well, you could start out small and orderly to contain your clothes and accessories for now, but why not plan ahead and get a bedroom closet which will accommodate more clothes and accessories as you acquire them? No one says your new bedroom closet needs to rival the one recently built by actress Jennifer Aniston. Hers is a "drive-up closet," complete with powder room and skylight and is approximately 24 feet by 36 feet and costs around $60,000.00. Hmmmmm.
Closet designers say "less is more", but the only thing we have less of is time. Social media engrosses us in a constant whirlwind of checking Facebook, work and home e-mail and Instagram to catch up and see what's trending. It is overwhelming sometimes. We have less time and seemingly more to get done. You dash to your closet to find something to wear and accessorize that outfit, and instead you end up pawing frantically through the clothes and just give up in exasperation.
A closet designer will come to your home, survey your bedroom and space available for closet enhancements or to create a walk-in closet, then have a design consultation to counsel you on what steps can be taken to create orderly closet space by moving away from the crammed-full-to-capacity present problem.
Share and share alike … space that is.
Whether you and your mate share bedroom closet space or you have staked a closet as all yours, accommodations may be made. A good closet designer will take into account enough room for "his" and "hers". Do you like to hang every piece of clothing up or fold it? As an example, apparently men are more of the mind to fold jeans and women like to hang them. Men and women may differ on jeans but agree that shirts should each get their own hanger. Men prefer to fold and tuck their clothes away in to drawers while women prefer to hang their clothes conspicuously where they may be admired – and that goes for shoes as well. Men might have a rather blasé attitude toward shoes – they have brown or black (or both) dress shoes, and their casual shoes are more or less athletic shoes, which may just be parked most of the time in the vestibule or in a sports bag awaiting action at the racquetball court. Women however are all about accessorizing, so the more the merrier when it comes to shoes. There are seasonal shoes – light and airy for Summer, and shoes for work and play, and, of course, maybe more than one pair of athletic shoes. A closet designer can tailor your closet with a dividing line down the middle – one side belongs to you and one to your significant other. Or the closet may be segregated according to a color code; dress clothes occupy one color, shoes another color, casual clothes still another. Perhaps even the wood tones and shelving or divider coloring is tailored to man versus woman, with dark wood tones being manly and lighter or all-white getting the nod for women. Dressing lights or low lights can even be lined along the wall and of course mirrors to check yourself backward, forward and sideways.
Even masculinity and femininity in closet space can't trump the extraordinary!
Going all out for your closet space may not be for everyone, but what better way to begin and end your day than in a closet area that caters to your every whim? Why not make it special and a place of total bliss, like the mood captured in this more modern bedroom closet trend? Framework in the closet seems to hold together "floating shelves" and lighted clothes racks. It is almost an ethereal feeling as the closet has such architectural details as high ceilings, which not only draws the eye upward, but creates much more area for shelving … so do bring on more clothes and accessories to fill those shelves and bins. Special low light and dressing room lights give you an up-close-and-personal look at your clothes, and yourself, because you certainly have plenty of room to prance around in here and enjoy yourself at every angle in the many mirrors. In this style of closet, hanging rods are suspended from the high ceilings and rows of lights line these rods, just like the others, so just popping in without turning on all the lights is ever so easy. Backlights provide even more light in the closet area and there is even vanity seating for last-minute make-up details. Glass and Lucite create a look called "floating shelves" and serve to complement the suspended rods to make it appear as if the entire closet area is just hanging in space, thus the term "celestial closet" may be used to define this type of closet design.
Minimalism – The KISS closet.
If your home is done in a modern theme, then why shouldn't your closet match the rest of the home? This type of closet design caters to simplicity or the KISS method (keep it simple) – not one inch of space is wasted. Everything is open and at-a-glance and in basic colors – nothing fancy-schmancy here. This closet type favors minimalism and the bare-bones aspect, and is the exact opposite of the extraordinary supreme closet mentioned above. Simple shelving encircles the closet with various-shaped cubbyholes designed for different shoe styles; luckily, no overshoes are needed here in this sunny clime. Larger cubbies are slated for sweaters or sweat suits, while narrower cubbyholes are perfect for storing layers of tank tops or tee-shirts. This type of closet is perfect in urban areas where space is at a premium and efficient use of any closet space must be made. There is no hint of frivolity here, nor any aesthetic value and nothing smacks of being ostentatious either.
Streamlined and high-tech looking.
This closet design copies a look that is a cross between Apple-inspired products and the modern stream-lined chrome or stainless silver look that so many modern kitchens favor these days. It is perfect for the high-tech guy or gal. In fact, to borrow a seldom-used term, this closet features a unisex look. Everything is organized in metal/chrome and glass, be it shelving units or large pull-out drawers. A valet for a man, as well as a woman, is set up in each corner of the vast closet interior and is a place to set up the clothes and accessories for the next day. Here one can dump pocket or purse paraphernalia and charge up handheld devices on portable docking stations and give both them, and their owners, a break during down-time at home.
These are some of the most-popular closet trends, but remember, though you may covet a bedroom closet that YOU think will never work with the bedroom space that you have, a professional closet design consultant will think outside the box and make it happen for you, so don't hesitate to call today.