Like nearly every other feature of your house, swimming pools come in a variety of types, sizes and designs. If you have your heart set on a pool for your backyard, you'll have to figure out what type of pool is right for your family before you do anything. Naturally, the size of your property, your budget and availability of materials will all play major roles in the type of pool you ultimately choose.
Before you start considering whether you want a landscaped pool with a pool house or one with a built-in waterfall or an infinity pool, you also need to be aware that there are three basic types of pool construction from which you can choose.
Fiberglass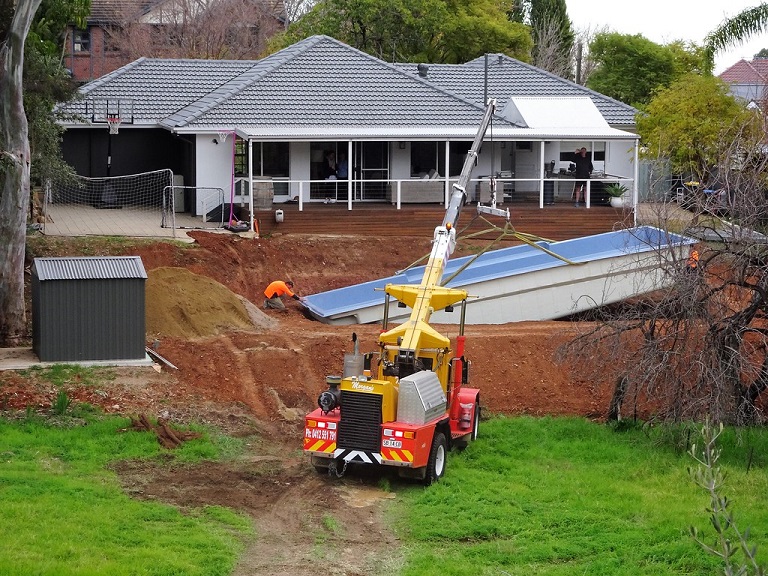 The most budget-friendly type of in-ground pools, fiberglass pools are molded at the factory into large bowl-shaped shells, which are then placed into the ground by a crane. For this reason, it comes as one piece and can be installed faster that other types of pools. Indeed, a pool construction company can install a fiberglass pool in as little as three days. They also have lower long-term maintenance costs. Nevertheless, they do have their drawbacks. They don't come in many varieties and cannot be customized. For instance, a T or L-shaped design isn't possible because of their need to be transported as one piece.
Vinyl Liner
The second most popular type of in-ground pool, vinyl liner pools are made from a flexible liner that fits into an excavated hole, which is then attached to a steel or aluminum-framed wall. Their big advantage is that the steel or aluminum can be cut into any size and shape an owner wants. Installation is also quick as most vinyl pools can be installed in one to three weeks. The downside of a steel wall vinyl liner pool is that it can corrode and oxidize. For this reason, it is best to steer clear of this option if you reside in an area with a high water table.
Concrete (Gunite)
The most popular and the most expensive type of in-ground pool, concrete pools are sometimes known as Gunite or Shotcrete pools. This is because contractors pump the concrete through a hose and shoot it out of a gun onto steel-reinforced walls. Then the concrete is plastered, troweled smooth and painted.
The upside of concrete pools is that they have almost no limitations because they can be customized to just about any shape or design the customer wants. For instance, you can have ceramic or glass tile bands around the entire pool. It's also possible to have different finishes such as pebble or quartz. While they take longer to construct, usually between three and twelve weeks, they are stronger and more durable than other types of pools. Furthermore, unlike other in-ground pools, they can also be enlarged or updated if a family's needs change or a new owner wants to make changes.
Of course the type of pool you construct will also depend on the design that you have in mind. Here are a few of the more popular types from which you can choose for your custom-designed swimming pool
Family Recreational Pool
Family fun is the main reason most people install pools in their backyard. As a result, water features such as slides and diving boards are essential for families looking to create their own version of a waterpark. This is the type of classic rectangular pool that you see in most homes.
Infinity pool
Always custom-built and usually positioned to highlight a view, infinity pools are sought after for their illusion of water dropping off a vanishing edge. It's like a waterfall, even though you don't hear any falling water. This kind of customization doesn't come cheap, however, since infinity pools are one of the more expensive options.
Natural Pool
Natural swimming pools are self-cleaning pools that are both swimming areas and water gardens at the same time. They are often designed with a rustic feel including large boulders and waterfalls. Commonly, they are equipped with aquatic landscaping, which functions as a kind of organic cleaning system.
In contrast to artificial ponds, which can be murky with sediment and groundwater runoff, you can actually see straight through to the bottom of natural pools. While they cost about the same as conventional pools, the natural version has a special appeal for people who enjoy gardening and natural landscaping. They are also a nice alternative for people who don't like to swim in chlorinated water.
Choices to Make
Whatever type of swimming environment you desire, there are a number of choices to consider before breaking ground in your backyard. From the type of construction that fits your property to a design that suits your family and your needs, there is a range of options to consider along the way to building the swimming pool of your dreams.