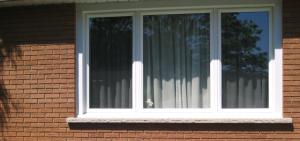 Choosing the right windows is one of the most important decisions you'll make for your home. Whether you're building a new home and you need to know about the different types of windows to install from the start, or you're looking at window replacement for old windows that are in disrepair, it's important to do your homework about all the different types that are available on the market today. According to recent statistics, the windows you install in your new home account for nearly 10 percent of its total cost. And, naturally, those looking into window replacement also want the best value for their money. Here is more information on the various types of windows you have to choose from, as well as tips on deciding which type is right for your home.
Casement windows
Casement windows are one of the most popular types of windows available today. They contain a hinged sash that swings in and out like a door and are attached with hinges to frames on one side. Casement windows usually are hinged on the outside and are hung either in singles or pairs by a common frame that goes in between. They're held open with a casement stay, which is a metal bar that holds the window open or closed for security. Two main types of casement windows are awning and hopper.
Awning casement windows
They are called 'awning' windows because their outward swinging action opens like an awning. They're hung horizontally and hinged at the top in so they can be swung outward.
Hopper casement windows
Hopper windows often are used in schools or in basements for safety. They contain a bottom-swiveling action and can be open by tilting vertically, typically toward the home's interior.
Sash windows
Sash windows are made of one or more sashes, or panels, and can be opened and closed by sliding the sash. The most common materials used to make sash windows are glass and vinyl. The panel in a sash window forms a frame that holds the panes in place, and the panes are separated by strips of metal or wood, or 'muntins.'
Single-hung sash windows
Single-hung sash windows contain a top and a bottom sash, with one panel that is fixed and can't be opened (usually the bottom panel), while the other panel has the ability to be opened and closed. Single-hung windows are being replaced by double-hung windows because they offer more and better features, but single-hung windows are still fairly popular, mostly because they are less costly.
Double-hung sash windows
Double-hung windows consist of two sashes. The difference between single-hung and double-hung, however, is that both of the sashes in double-hung windows can be opened. As with single-hung sash windows, double-hung windows have two panels that are on top of each other. And, though they are more costly than single-hung, they are also more popular because they present ease-of-cleaning as well as an additional sash that is not fixed, but can be opened and closed. To many homeowners, these attractive features mean more convenience.
Tips on choosing the right windows
Now that you know more about the different types of residential windows available today, here are some of the things you need to look for when choosing the right type for your home:
Maintenance
With today's busy schedules, nobody has a ton of time to devote to cleaning windows. That's why it's important to find windows that offer low maintenance and energy efficiency. Fiberglass, vinyl, and composite window frames require little maintenance, while wood frames typically require more maintenance. Additionally, windows that can be easily opened and cleaned from the interior of your home tend to be a better option when it comes to maintenance than those that must be reached from the home's exterior.
Thermal resistance
A window's U-factor is what determines its ability to keep heat from escaping. The U.S. Department of Energy (DOE) recommends purchasing windows that contain a U-factor of 0.35 or lower.
Solar heat gain
Solar heat gain coefficient, or SHGC … this refers to the amount of heat energy from the sun that gets absorbed through a window's glass. The lower the SHGC, the better the window can block the sun. The DOE recommends that folks who live in cold climates should choose the highest SHGC in order to optimize warmth from the sun. Conversely, folks who live in warmer climates should choose windows with a lower SHGC because they will help to keep too much of the sun's heat from getting inside.
Windows don't just give us a means of looking outside to see what the weather's like today. They provide much-needed natural sunlight that helps to illuminate and heat our homes. They help us to save money on electric, heating, and even cooling bills. And they protect us from outside elements that would otherwise be intruding on our safety, privacy, and comfort. If you're looking into window installation or window replacement, contact a window replacement contractor in Baltimore for more information or to schedule a consultation.