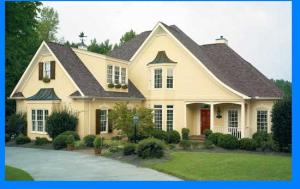 Sometimes we rely on the tried-and-true things in life simply because they have always worked, and, like the old expression goes "if it isn't broke, why fix it?"
But … sometimes the "same-old, same-old" stuff need a lift. Revitalization is the way to go – even with house color. Just because you're exterior house color has always worked for you, it doesn't mean you should remain committed and wedded to that color the rest of the days you dwell there.
New exterior house colors
Where do you begin if you want to change the exterior color of your house? To avoid being overwhelmed with such a large undertaking, you start out simple by looking at paint chips at the paint store until they all look alike and begin to boggle your mind. When perusing the various manufacturers' online paint samples, it truly is difficult to imagine any of the many available colors in the suggested exterior palette as a finished product.
Several of the leading paint manufacturers have an appealing way to check out how their paint might look on your home … you can upload a photo of your home and swap in the various colors to "try on" each color to get an idea of how that finished product will look. The two popular sites are: https://www.sherwin-williams.com/visualizer/) and http://www.valsparpaint.com/en/explore-colors/painter/index.html. Hopefully, envisioning your house with the "drop-in" color will ease your mind before you grab the big, wide paint brush and extended roller and begin the project in earnest. Your safest bet if you are concerned about going with too dramatic of a color for the main body of your house would be to consult with a professional – after all, it is a rather formidable task to paint the exterior of the home and to do a good job if painting is not your forte. Why not consider discussing options for the exterior of your home with a house painter in Little Silver whose expertise is in residential painting?
Updating the exterior color
For more traditional homes, don't stray too far from the classic color combinations, but opt instead for deeper hues or a new complementary color for trim and accent colors. For traditional homes, beige and white or gray-blue and white are two of the most-popular color combinations and you cannot go wrong with them. Bright-white for trim and accent are a classic looks, and go ahead and keep them, but opt for bright spots of color for accent or even the front door. You might want to keep that white house but are looking for a little pizzazz, so why not try trim in lavender gray and a front door in bright turquoise? It may sound a little out there on paper, but this tri-color combo is actually very striking. Besides, if you've taken that big leap and used some dramatic and bold color, and you're not happy with the choice, the re-painting job is minimal and you can revert to a more-traditional color combination very easily.
Other modern paint colors:
Color combos in gray tones are very popular now, both for the interior and exterior of the home. It is all about gray these days – gray is a good neutral color and for the body of the home to be painted in a light dove gray, with complementary darker gray hues for the trim, you can keep that classic home's style but update it with a more trendy look. You can forsake the traditional white house body with the staid shutters and opt for an all-gray look, which is sure to provide plenty of curb appeal.
Colonial blue is a pretty light blue which for years was one of the most-popular siding colors or colors of choice for bungalows; the trim, accents and front door were always painted in a bright white. The more-modern version of Colonial blue is a decidedly deeper dark blue-gray with white trim and a door in bright yellow that will draw family and friends to your front door like a magnet.
If your home is surrounded by a natural setting, like a lush garden or a lot of greenery, a perfect color for your home's exterior would be seafoam. It is not a blah neutral, nor is it scream-for-attention hue, but, instead it is the perfect color to help your home not just blend into the background, but instead, rise above it.
With cottage-type homes you have a little more leeway and flexibility when it comes to exterior color management and experimentation. A jazzed-up front door in a brilliant peacock blue against a medium gray house body or even a lemon-yellow front door add interest and excitement without being overbearing.
Experiment
There is a wealth of colors – not all are the right fit for your home's architectural style or roof color. Before doing a dramatic overhaul to the color of your home just for the sake of change, try modifying the color slightly to add a deeper hue and just accent colors to brighten up the home and for added appeal. There is always room for change down the road – baby steps for now, and, as always – if you are unsure about any major color change to your home, consult with an experienced residential painter first.