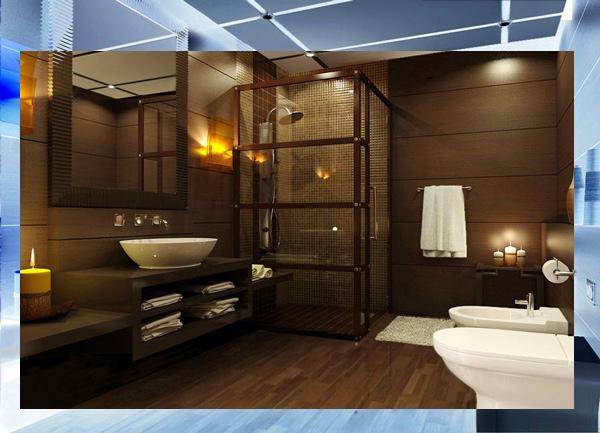 The bathroom is fast becoming much more than just a place to perform your morning ablutions, or daily clean-up rituals.  Today's bathroom may resemble one that belongs to a movie starlet or rock star.
While we may have once been content with our bathroom's trio of stark white porcelain accoutrements, i.e. a blah sink basin plopped into a standard pressboard vanity, a standard toilet and a basic bath/shower stall combo, our bathroom amenities have really evolved.
Water features rule
Men and women have different concepts about what the modern bathroom should include – men often favor the ultimate shower, or shower head if a fancy shower stall is not in the budget.  They prefer the ultimate shower experience, a/k/a a built-in shower/spa with jet force water coursing down on the shoulders and neck.  The built-in shower/spa is luxurious, especially coupled with a shower bench seat to rest your tired tootsies, but, if this luxury is not doable, in a pinch the shower head with multiple pulse settings can similarly take the edge off of a long, stress-filled workday.
Women, on the other hand, prefer a long soak in a soaking tub or perhaps even succumbing to the stress of the day while immersed in tranquil water and bath salts up to the neck, in a vintage claw foot porcelain tub, much like her grandmother might have used.  A side table with a candle and a glass of wine helps her unwind.
There are options, if your bathroom is large enough, (especially after installing both the ultimate shower and a soaking tub to accommodate both your preferences) to include such wonderful amenities as a spa or whirlpool.  There is no nicer way for a couple to take the edge off the day and begin a relaxing evening with a stop here in the bathroom to languish in any of these water features.
These water features would be many a homeowner's definition of a bathroom paradise.
So, if either or both of these attributes are uniquely you and yours, you should count yourself lucky and certainly deserving of some type of bathroom nirvana, don't you think?
If you consult with an expert who specializes in bathroom remodeling in Palo Alto, a bathroom paradise, as described above, is certainly within reach.  A bathroom remodeling designer can create a bathroom that is state of the art and the perfect paradise.
Trending today
Lighting – No longer will you rely on a trio of bulbs over the bathroom vanity mirror to apply makeup or even brush your teeth.  The trend is for soft lighting which will add new dimensions to your bathroom as well.  Bathrooms today tend to take their cue from Hollywood dressing rooms – multiple bulbs giving off a soft glow makes for a happy star.  The right light can create ambiance in your bathroom too.  Thus, it will create a happy you.  A bathroom that is large enough can line LED lights along the mirrors or have them recessed into the ceiling, or perhaps just have soft mood lighting with pendent light fixtures or sconces.  A large window with sheer curtains will let in the natural light whenever possible.
Mirror-mirror – It used to just be the glass on the wall over the vanity cupboard, but now mirrors are encroaching in the bathroom.  In fact, they are everywhere, surrounding the perimeter of the bathroom, giving a sleek and chic look and reminding you that you should not have had that third slice of pizza.
Radiant floors – These are a warm treat for your toes on those chilly evenings when the cool breezes blow in from the Bay.  What a treat to step out of the tub or shower onto a warm floor – you might want to linger a little longer than necessary and indulge in this little treat.
Porcelain standbys – We know them by their common names of toilet and sink and their modern shapes are defined as super skinny.  The toilets may be self-flushing, wall hung, all- in- one or very tall and narrow.  They can still be purchased in white, if that's your pleasure.  Likewise the sink has evolved as well; it has escaped from its vanity hideaway and is now a shallow basin sitting atop a very tall pedestal and it will take up minimal space in your bathroom.
The bathroom is complicated.  The ideas mentioned here to enhance your bathroom are designs and projects that need to be completed by an expert in bathroom remodeling, and you can find such a contractor in your area.  Except for unscrewing and replacing the shower head with a new-and-improved one, something you should consider a do-it-yourself-project, you should consult with someone knowledgeable in the field.  He or she will offer suggestions on turning your current bathroom into a bathroom paradise.