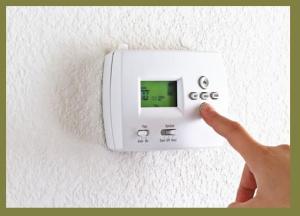 The Old Farmer's Almanac is at it again … predicting their long-range forecast throughout these United States and touting their 80% accuracy in past years in doing so. The predictions for the Midwest and Mid-Atlantic states are dire, in fact, maybe colder than the brutal winter of 2013-2014. The Almanac's Editor says "Think of it as a refriger-nation"… Yikes!
A brutal winter
Though winter in a cold-weather state like New Jersey will surely cause you to lament over the idea of trudging out in bone-chilling cold, just thinking about the big bucks expended to battle that cold and keep the house comfy will make you say grrr instead of brrr. There are many ways to combat high bills by your energy provider in the winter months. These ideas run the gamut from simple DIY projects to the purchase of a high-efficiency furnace.
A little home maintenance
Review the checklist below for some simple maintenance tips and suggestions to thwart the bitter cold air:
Use weather-stripping and caulking – If your home has even the smallest air leak, this welcomes in the cold air and contributes to as much as 10% of your home heating bill in the winter months. You should ensure there are no gaps in the caulking or weather-stripping around your home, because over time these materials tend to deteriorate causing drafts. To check if weather-stripping is still providing an adequate seal, try closing a door or window on a strip of paper and if the paper slides out, you need new weather-stripping. Also try putting a lighted candle near the frame and see if it flickers, and if it does, there is your air leak. When caulking deteriorates it starts to crumble, especially around openings for electrical, cable, phone or gas. Sometimes caulking loosens from windows or doors as well. If there are gaps, then clear out the old caulking and replace it with a suitable caulk. You'll be surprised that these easy tasks will yield a cozier home.
Window treatments
Use thermal curtains – Another way to keep your temperature constant and comfy without forever raising the thermostat is to use thermal or insulated curtains. They come in a variety of styles, colors and most importantly – weight. Insulated curtains are lined with an extra layer of high-density foam that blocks the exchange of hot air in your house with the cold air outside. Some thermal curtains also contain a reflective film to direct heat back into the room. They come in various weaves of thickness geared to block the cold.
Inside blinds – Using cloth vertical blinds will shield your rooms from the wicked winds of Old Man Winter as well. When the sun is shining brightly, it's a snap to open the blinds and welcome in the warmth.
Insulating your attic – This is a superb means to insulate your home in a process that adds layers of foam insulation and can be done professionally in very little time making your home air-tight and impermeable to drafts. The old type of batting insulation does not adequately cover hard-to-reach areas resulting in gaps and thus air leaks. Blown-in insulation does a better job of reaching every available area since the medium utilized is chunks of cellulose and fiberglass which are more flexible, but, foam insulation really rules in this category.
What if you've done the checklist, window treatments and insulation but it is still cold
Tune-up your furnace – Here's where you seek the services of an expert. With your furnace, as well as air conditioner, it is best to be proactive and have an annual furnace check-up performed. A furnace maintenance contractor in Union County, New Jersey can do that for you and help keep your furnace in tip-top shape. He or she will check furnace belts and motors for wear and damage or poor performance by heating ducts or burners. The thermostat will also be checked to ensure it is running correctly. Surprisingly, often the cause of a furnace running raggedy, and not heating evenly, is just because the homeowner failed to change the filter timely.
Run a humidifier – Built-in furnace humidifiers may be adjusted to the outside temperatures to keep the proper level of moisture in the home at all times. If you don't want to invest in a central humidifying system for the furnace, you could opt for a room humidifier and run it frequently. Moisture in the home will make it much warmer without high energy costs, and your nose and furniture also benefit from the extra moisture. You can eliminate the dry-air syndrome and achieve a similar moisturizing effect from boiling a teakettle or a pot of water on the stovetop on those bitter cold days.
Non-traditional home-heating
There's some other ideas that are trending today. They may not be for everyone, but they are an alternative to traditional home heating, such as furnaces. Why not consider these options below?
Hearth on a cold winter day
Fireplaces are great for ambiance in a home as well as practical for heating purposes in the winter. The trouble is they only really heat up the room they are situated in, usually the living room. They are not a totally maintenance-free option either, and, of course not every home is equipped to handle a fireplace. So here are a few non-traditional home heating ideas:
Whole house wood-burner – Here's another concept to heat your home, wherein a small shed in your yard contains a firebox which is fueled by wood and is able to heat an average-size home up to 3,000 square feet.
Wood-burning stoves – Here's a wonderful way to warm up your home, but there are several caveats that come with this heating option. Regular inspections of the stove and its pipes are necessary to ensure that these devices don't become a safety hazard. Cracks in stovepipes can release toxic fumes and you should check periodically for signs of rust or cracking in the stove's body or legs. Also be sure that there is adequate ventilation behind and around the stove to allow it to run properly. You can even use a wood-burning stove for cooking.

Wood pellet stoves – This means of home heating is big in Europe, but slower to catch on here. Wood pellet stoves are similar to wood-burning stoves or fireplaces, in that they are a low-cost heating option, however, they are more environmentally friendly as they do not release the same carcinogens into the air and are not as messy. They are fueled by wood pellets, which come from byproducts of sawmills such as recycled sawdust and wood shavings. They are cheap and easy to manufacture and inexpensive and less bother than traditional logs.
Solar panels – Here the use of running water, warmed in solar panels, speeds through pipes in the floor thus warming the floor as well as surrounding air instead of venting warm air into a room like is done with a furnace.
Radiant heat – Gas hot water radiant heating and floor warming (like the solar panels above) is very popular here in the U.S. It is an economical choice for heat in large open spaces or to provide greater comfort and coziness like a baby's room, kitchen or bath. There are a variety of electric products available to suit different floor types. Radiant heating foils, mats and cables are typically used in floor applications. Radiant heating foils may be used as well in regular ceilings or panel heaters for dropped ceilings.
Traditional home heating
If the above suggestions for heating your home still find you shivering and searching for a bulky cardigan, perhaps it is time to consider the purchase of a new furnace. The primo type of energy-savings furnace would be a high-efficiency furnace because it will consume 30% less fuel than older furnaces and operate at 100% efficiency as opposed to 75% efficiency of older furnaces which translates into even heat distribution in your home.