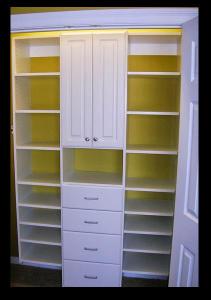 Stuff, stuff and more stuff – where does it all come from? And, it is not like you are a habitual shopper or a hoarder, in that you have accumulated far more items than any human being could hope to use in a lifetime. If you have a partner, you've probably been accused of encroaching into their space with your personal items, usually clothes. And, if you're single, and you're encroaching into your own space then you know it is time to get control of your clutter once and for all.
How can you create organization
You can peruse the internet or flip through magazines for ideas on how to tame clutter in your home. But those are just general ideas and it doesn't specifically target your home and your items. Closet design specialists will tell you that the primary areas they target the most for clutter control is the kitchen and the bedroom. It might seem difficult to imagine ending up with a clutter problem in the kitchen – I mean … just how passionate can you get over excess canned items anyway? Now, the bedroom closet is a whole other story. It is easy to get sentimental about your personal items, especially clothing. Even more so, if you are a yo-yo dieter who must have two sets of clothing for "fat" and "skinny" times. Maybe you just don't throw clothes away or donate them to charity. Whatever your reasons, you are better to hire a closet design specialist, who will work with you to achieve a storage solution to tame that burgeoning load of clothes and personal item.
How to be clutter-free
Your initial consultation with a closet design specialist will give you an idea of whether a simple re-organization with some strategically placed shelves or dividers are in order, or whether a custom-made reach-in or walk-in closet is more your style. You must first consider the size of the room and the size available to expand the existing closet if need be. Then, after analyzing the space, a company that specializes in custom closet Design in Pensacola will put the kibosh on your clutter.
Reach in closet
If your bedroom is small, no doubt the closet likewise is small. Reach-in closets are built right into the wall, and are closed off with a single door. As the name suggests, you do not enter and walk around in this closet, but merely reach in. The dimensions of a reach-in closet are generally 33 inches X 20 inches altogether. The closet area is only deep enough to store clothes on a single wall. The reach-in closet is typically used for smaller-sized bedrooms where expansion of the existing closet into a larger closet would not be feasible.
Walk-in closet
A walk-in closet is the ultimate luxury to a person who has it all and doesn't know where to keep it. This type of closet can keep you organized and able to find anything in a flash. Unlike the reach-in closet where you see and grab your items, a walk-in closet is like a small room. The typical walk-in closet is 53 inches X 20 inches, and, as the name suggests, one may walk inside of it. Clothes and personal items may be stored on two or three walls, and, for top-of-the-line walk-in closets, there is enough room for a vanity table and chair – even a chaise lounge if you so desire.
The closet is right for you
If you choose the reach-in closet, it is a much simpler "fix" for your clutter problem. A few built-in shelves, specialty pull-out bins and dividers for every drawer – whether it is deep or just a jewelry drawer – these clutter busters will help give every one of your clothes and/or personal items its own space.
But, if your excessive clothes clutter problem is not solvable merely by revamping a smaller closet, you'll need to settle for a walk-in closet.
If you share your closet with a significant other; that does not mean that defining the closet space is as simple as drawing a dark line across the middle of the closet to bisect for "him" and "her". A professional closet designer will help create a custom closet for you and your significant other (if applicable) by a series of divisions or subdivisions within the closet. For example, a coding system may be used to separate "his" from "hers". Well, that's easy enough and you just have to remember not to stray across that line. Next, a sub-coding system for each of you would be put in place wherein a color code will segregate clothes by function i.e. dress/work/sports/casual. That system could enable you to find anything you are looking for at a glance, whether it is hanging up, stuffed into a bin, or lined up on a shelf against a wall. After the color coding of clothes types is complete, it is time to move on to some amenities in your new closet. Besides horizontal shelves which line the perimeter of the closet, new cubbyholes and bins are suddenly gaining stature as deep places to fill up with heavy sweaters and socks, to keep it orderly within. A newer concept called "floating shelves" are shelves made of Lucite or glass to create the illusion that the shelves are floating in air – it's no illusion, however, there are shelves there and they are just waiting for you to plop something on them.
Trip the light fantastic as you walk around and peruse your possessions, all awash in both low lights and dressing room lights, in addition to rows of shelves with tiny lights dancing along the edge to give your closet ambiance and an elegance that you thought you'd never see given your abundance of worldly possessions.
Why not seek a consultation with a closet design specialist today? An elegant custom closet can be tailored to your personal needs and chaos and clutter will become a thing of the past.