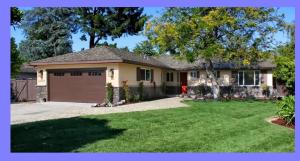 The beautiful city of Atherton, California not only has the distinction of being one of the most-upscale zip codes in the United States, it is also one of the most-scenic places as well due to its proximity to San Francisco. Suffice it to say, that it would not be surprising that anyone who lives in a posh Atherton neighborhood would have a beautiful and extravagant home. Keeping up with the Joneses is just a fact of life in these beautiful Atherton suburbs.
Because the homes are already so lavish, any further remodeling efforts would probably go unnoticed, wouldn't they? But, if you did decide that you'd like to improve the curb appeal on your already-spectacular home, for possible resale down the road, or just for a "different look", what projects could you undertake?
Experts suggestions
Keep it simple sometimes – A beautiful, stained-glass front door in an exquisite hue that harmonizes with the front of your home will welcome family and friends and add instant curb appeal without the muss and fuss of a total, full-out remodeling job, and is a fun, quick and easy choice to consider. It has 100% instant curb appeal and better than getting a new welcome mat for sure.
A new garage is a pretty good idea too – If you've lived in your home for years, perhaps the two-car garage did suffice, but if your kids are all grown up and attending college or still living at home, of course, each of them has to have their own vehicle. Why not consider enlarging or modernizing your existing garage? There are designs galore which will perfectly complement the architectural style of your home and serve a worthwhile purpose of creating additional storage space for each vehicle.
Driveway and sidewalks – New driveways and sidewalks to go along with that beautiful new garage are a must have … and even if you don't renovate the garage, a wonderful addition to your home would be paver bricks for your driveway. While you're at it, a contractor who specializes in creating beautiful driveways, sidewalks and walkway designs with paver bricks, can turn ordinary cement into an exquisite look for your home … who wouldn't want a beautiful paver brick walkway through their gardens? Don't stop at the paver bricks in the backyard … there are more options for your backyard living space listed below!
Enhancements to the backyard
Backyard improvements to an already-beautiful home might not yield added curb appeal, but could bring you higher resale value, if you're so inclined. Backyard enhancements might just be for self-satisfaction – after all, it is unlikely renovations will be visible to anyone but you and your closest neighbors.
Posh pools and water features – If an in-ground swimming pool is already a fixture in your backyard, depending on the age of your pool, you might consider getting a more-modern swimming pool. Pools today, are not merely a huge concrete hole in the backyard with a deck and a diving board. Today's pools come in a variety of different styles, shapes and with many enhancements that were not available until recent years. You can choose shapes that are tailor-made to your backyard living area, and choose to add some enhancements such as side spas, natural diving rocks instead of the traditional diving board, or floating pots of fire. You can add beautiful light and music treatments to accompany your swimming experience or perhaps a naturalistic environment of a waterfall which trickles from high above and goes into the pool water. The sky is the limit when you consult the appropriate contractor who specializes in landscape design and/or pool design. If you are happy with your traditional in-ground swimming pool, instead of renovating it, why not consider a second pool, i.e. a lap pool? Swimming laps is considered very beneficial to your cardiovascular health and rather than lazing around the swimming pool soaking up the sun's rays, you could incorporate swimming laps into your daily exercise regimen. A lap pool takes up very little space in your backyard as it is long and narrow.
Sunroom – In the sunny clime of California, even though you enjoy that sun and fun on a nearly everyday basis, sometimes you would just like to relax and enjoy that beautiful climate without the searing sun beating down on your head. A modern sunroom design in Atherton is the perfect addition to a California home – a place to enjoy the beautiful weather, but when those Northern cool breezes blow in off the San Francisco Peninsula, or a pesky rain shower suddenly appears, you can take cover in a well-ventilated sunroom and enjoy the day or evening from the comfort of your home.
Dining in the backyard – What better way to enjoy the beautiful climate of sunny California than taking more of your meals out on the patio area? Why slave over a hot stove, in a steamy kitchen, when you can have a custom-built kitchen on your patio? A sink and fridge will complete that "second kitchen" so you don't have far to walk to enjoy the outside ambiance and get dinner on the table and then cleared away. If you enjoy the outside cooking and eating experience, dinner does not have to be a three-course event every night – you might consider a large grill or even a fun outside pizza oven. The enticing smells from your own backyard will fill the air with savory spice and have every neighbor popping in, ostensibly to "visit", over and over again. Speaking of dining outdoors, the traditional table and chair set for dining or simply sipping drinks on the patio are now so "yesterday" … why not consider rugged sectional furniture to surround your new kitchen? These benches pack a personality punch with brightly colored weatherproof cushions; the sectional benches are totally moveable so that you can reconfigure the seating to as many family or guests that partake in the feast or festivities.
Fire pit extraordinaire – Just because you live in a warm-weather state, it doesn't mean that the weather is always going to be very hot. There will be plenty of chilly days in the Winter months or many downright cold evenings that a fire pit would be welcome as you gather on the back patio. Today's fire pits are custom-built, permanent brick fixtures and as large as you want them to be.
So, whatever way you choose to enhance your home – whether it is creating a brand-new look or a beautiful backyard paradise for you and your family, consult with a contractor who specializes in exterior remodeling right here in Atherton to beautify your home beyond belief.