When the weather turns nice, most people relish the chance to enjoy the outdoors. Since the novel coronavirus has upended all of our lives over the past few weeks, we have had to get used to a new normal that has changed our daily lives for the foreseeable future. As a result, anyone who had ambitious summer travel plans has put them on hold for now due to social distancing guidelines and stay-at-home orders.
Just because people will be getting their taste of the outdoors around the home this summer, however, doesn't mean that they have to abandon their creature comforts. With some adjustments, you can make your outdoor space as comfortable as your interior. For this reason, we put together some recommendations to help you to transform your backyard into a sought-after living space.
Put Up Some Mood Lighting
In order to take advantage of your outdoor space after daylight hours, you should add some dramatic outdoor lighting. Not only can extra lighting make your outdoor living space safer, but it will make it a more enjoyable place to wind down and get in the mood once the sun sets.
Although many people opt for electric bulbs for outdoors, you might want to soften the glare with torches or lanterns. You can choose between accentuating your house's architecture with lighting that is pointed upward or direct it downward for a softer, cozier glow.
Warm Things Up with a Fireplace or Fire Pit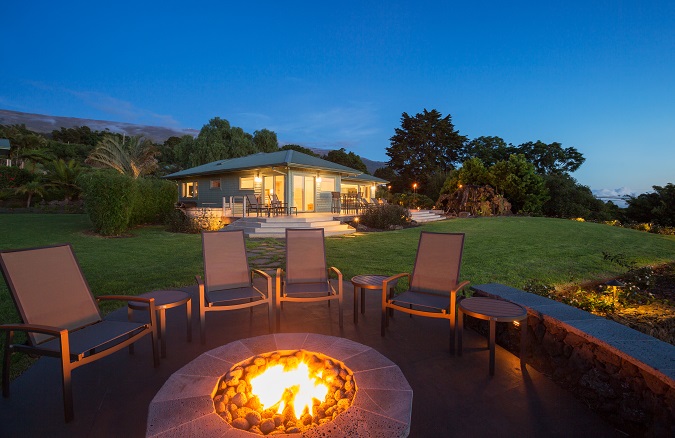 Adding fire to your outdoor space can instantly transform it from an ordinary area to a warm, inviting sanctuary. A fireplace stands as a natural focal point and can also be the starting point for an outdoor kitchen. Moreover, a backyard fire is the perfect amenity for keeping people warm on chilly summer evenings.
Fire pits, on the other hand, also bring people together and enable people to continue using the space during cooler weather. Having a backyard fire can be as simple as a hole in the ground or it can be as extravagant as a marble gas-fueled fireplace. It all comes down to how much you want to spend to bring some warmth to the outdoors.
Add a Water Feature
If you really want to make this place special, install a water fountain. Since you already have earth, air and fire, you might as well have the full range of classical elements. Although fire brings warmth, water can add tranquility with its soothing sounds. Fortunately, water features come in all different sizes and incarnations from simple store-bought fountains to cascading waterfalls to the always popular koi ponds for those who prefer an exotic eastern garden feel. Water has the twofold benefit of adding visual excitement to your backyard while generating a relaxing sound to take the edge off a long week.
Create the Ultimate Poolside Environment
While you're on the water theme, you could take it a step further by dedicating your outdoor space to a swimming pool. Naturally, it will become the focal point of the space that you can decorate and build around. A pool can add both aesthetic value as well as a spot to cool off and get some exercise. The great thing is that you can always incorporate it into existing environmental features to create a more harmonious environment. For this reason, it makes a difference to consult a pool design company that has experience with landscape architecture.
Bring Your TV to the Outdoors
Hanging a flat screen TV is one way to introduce modern technology to your outdoor living space. Since they've become so much thinner and lighter, it's not even much of a challenge to add a large TV to your backyard. It's always better, however, to house your television within some type of enclosure or shelter. For instance, it could go over a fireplace protected by a roof or in a cabinet to shield it from the elements. You could even hang it right from the ceiling of a patio space. When you're ready to get serious, it's always good to consult a professional audio-visual installer for help and advice.
With these ideas, you can transform your outdoor living area into a gathering place for family and close friends to enjoy their long summer days and nights. Whether you're looking for a backyard getaway, a poolside paradise or a cozy spot to put you in the mood, these updates are sure to help you make the most of a summer spent close to home.