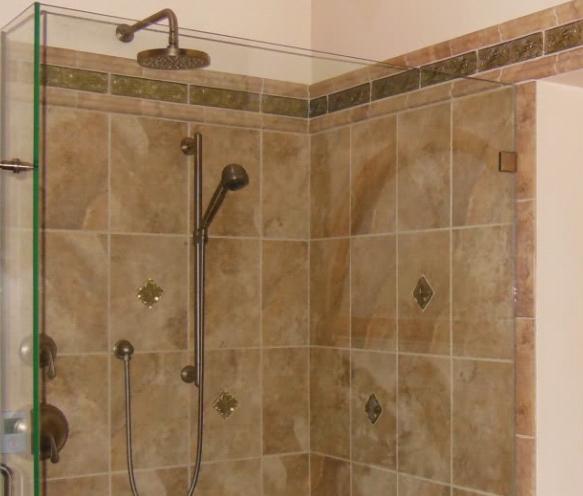 Stress relief can come in the form of amenities in the bathroom, with water features guaranteed to take the edge off a long, stress-filled day. Water is a stress reliever… even if you simply use water to keep yourself hydrated!  But the most-popular use for water, besides the daily ritual of keeping yourself clean, is as a stress reliever.  No one can discount the cardiovascular benefits of doing laps in a swimming pool, but sometimes a stress reliever needs to go beyond simple exercise.  If you are lucky enough to live in a large home where you have his and her bathrooms, that's great, but perhaps you have a large-sized master bathroom built for one, here are some designs with the couple in mind.

The ultimate shower experience
There's nothing like a quick and invigorating shower to get your day started off right.  It perks you up, maybe even better than the strongest cup of java, and gets you clean and ready to take on the world.
But, depending on your livelihood, you might want a second shower –one to get cleaned up from the day's dirt and grime, or, how about a long shower, where you will enjoy pulsating needles of water pelting on the back of your neck, just pushing the cares and worries of the day down your body and sending them swirling down the drain.
There are showerheads with handheld devices which are good for a quick spritz, and then there are showerheads that offer the ultimate shower experience.  This is not just replacing your current showerhead with one with a pulse setting, though that is certainly a less-pricey way to go.  Why not consider a built-in shower and spa with water jets?  All those needle-like pulsating fingers of water hitting the back of your neck and back will relieve the stress of the day and leave you invigorated.  Though you may prefer to stand in the shower while enjoying this rush of warm invigorating water coursing over your body, the option is there to have a built-in seat so you can "take a load off your feet" and sit and enjoy the experience as well.
There are a variety of styles of shower stalls created for your ultimate shower experience, all require installation by a professional home remodeler and include a frameless or curbless style.  You can even have a shower placed in the corner of that bathroom if that strikes your fancy.  That way, it takes up less room and you can consider purchasing more water-type features for the master bath like a whirlpool or sauna.  Now, whirlpools and saunas have been around for a long time, but having one installed in the master bath will encourage you to include this experience in your nightly wind-down ritual as well… a ritual that does not involve you traipsing to the club to get your relaxation on, but instead just walking into the master bathroom.
Save water
Whether you enjoy the above-mentioned water stress-relieving benefits solo, or with your significant other, here's another water feature to have installed in your bathroom.  Through the years, bumper stickers or funny tee-shirts have proclaimed "save water – shower with a friend", and, though you might have laughed out loud when you read that saying, now it can become a pleasurable reality.  For couples who use the same shower there are two levels of experiences these days.  You can have one shower shall with computerized showerheads that allow each person to tailor their water-pulsating style to their individual preference.  By the mere push of a button, the mister or missus in the house, turns on a shower that is 100 percent to their liking.  But, taken a step further, sometimes you can have the best of both worlds – a showerhead tailored to your liking as well as showering along with your significant other in a tandem-style shower.  If this sounds like an experience you would like for your master bathroom, you should inquire about an elongated-type shower.  An elongated-type shower will remind you of a carwash.  It is a walk-in shower, approximately five by ten feet and offers dual showerheads – the shower heads are at opposite ends and the entire shower stall is totally glassed in to give the room a light and airy look.
The shower isn't for everyone
While you might enjoy your ultimate shower experience, for some a quick shower is just a means to an end – hop in, soap up, get clean, rinse off, step out.  For some people, mostly women, the ultimate water experience is found in the bathtub.  A wonderful treat for many women is unwinding at the day's end in the tranquil waters of a soaking tub.  Whether that tub is just an over-sized bathtub placed in the corner of the master bath, or an ornate, vintage-style, claw foot bathtub, the bathtub becomes the long-awaited treat at the end of a stress-filled day.
If you're looking for paradise at your abode, you don't have far to go – consider contacting an expert in  bathroom remodeling in Decatur to find out the trending bathroom designs for couples today.