Although spring has not appeared just yet, it is just around the corner.  Before you know it, people will be inviting you over for backyard barbecues and pool parties.  Therefore, you need to start thinking about what you can do around the house to shake off the damage of a long winter. Typically, spring conjures up images of people cleaning and organizing inside the home.  However, your exterior is the first impression people get when they show up for that cocktail party.  If you need some help, now is the perfect time to contact a home remodeling contractor in your area.  In the meantime, we picked out some remodeling projects that will give your home's exterior a new look for the warmer weather.
Repairing the Driveway
Ice, snow and the salt that follows is not very kind to driveways.  In order to combat the damage, it might be time for repairing or resurfacing. Which way you go is up to you, but there are a few factors to take into consideration.
If the normal freeze-thaw cycles of winter have left minor surface cracks and some crumbling asphalt, then patching up your driveway is probably sufficient.  This fix won't solve the problem, but it is a more cost-effective solution in the short run.
A great way to improve the look of your driveway is to add a new sealcoat.  With a little preparation and a driveway squeegee, your car park will look much better in no time at all.  If the damage is more serious, then resurfacing is another option. In this case, you add layers of asphalt to the surface to give it a whole new look.
If you have a series of potholes or your driveway is more than twenty years old, however, then it's probably time to replace the whole thing.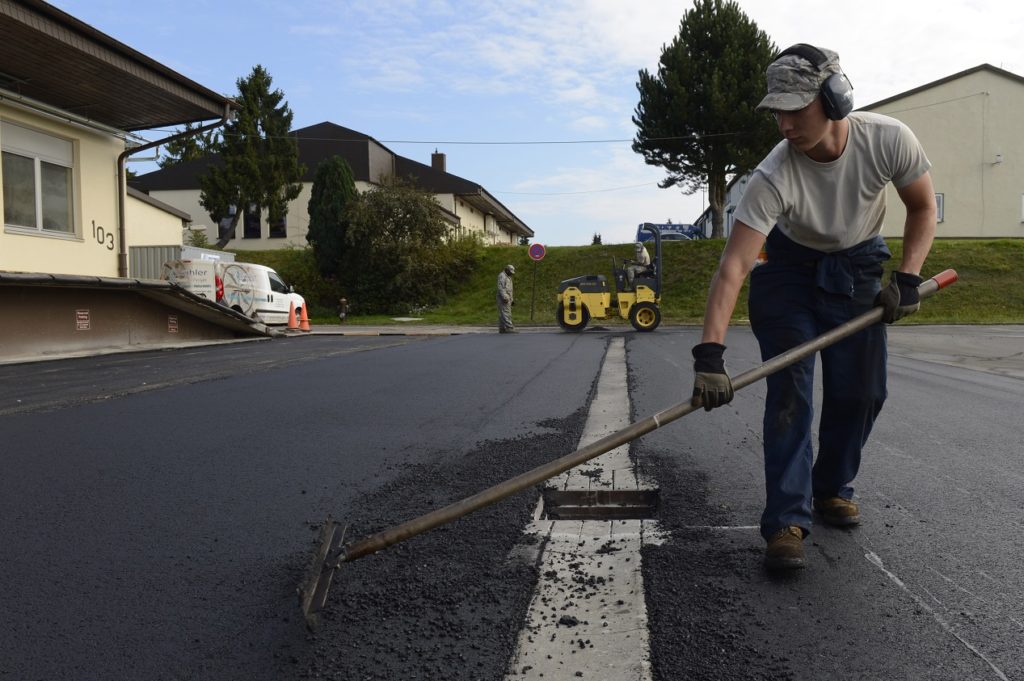 Roof Repair or Replace
Whether you need to replace it or just repair some trouble spots, your roof can cause serious damage if it is neglected, not to mention its rundown appearance.  By inspecting it now, you can correct small problems before they turn into large headaches.  Even a minor leak can damage the interior structure.  If you discover more serious issues, then a new roof might be in order.  Although it isn't really a quick fix, a brand new roof will both increase the look and value of your home and protect it from the elements for many years to come.
New Windows
Although people usually spend even less time thinking about replacing windows than a roof, new windows not only improve the look of your home, but they conserve much more energy than older, outdated versions.  In addition to reducing outside drafts, up-to-date windows also protect your interior from the fading damage of UV rays.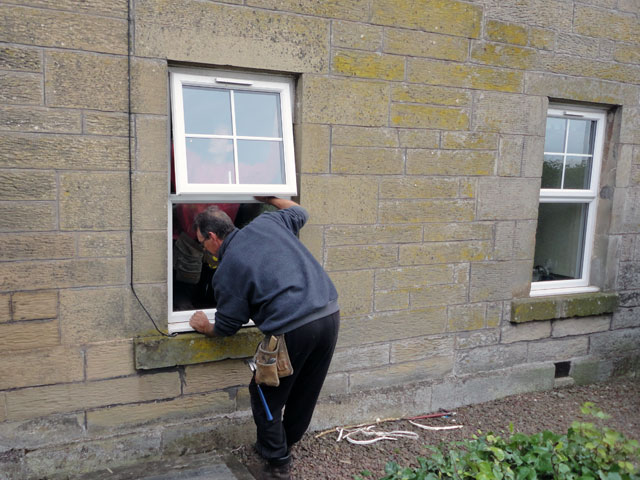 An Outdoor Kitchen
If you enjoy outside entertaining, this is the way to go.  An outdoor kitchen gives a whole new meaning to the neighborhood barbecue.  Additions can include installing a convenient under-the-counter fridge, a basin sink and some nice counters on which to set your utensils and bar items.  One thing to keep in mind is to select appliances and materials that cohere not only with your landscape but also with home's interior elements.  The idea is to make your outdoor renovation both aesthetically pleasing and consistent with the rest of your home.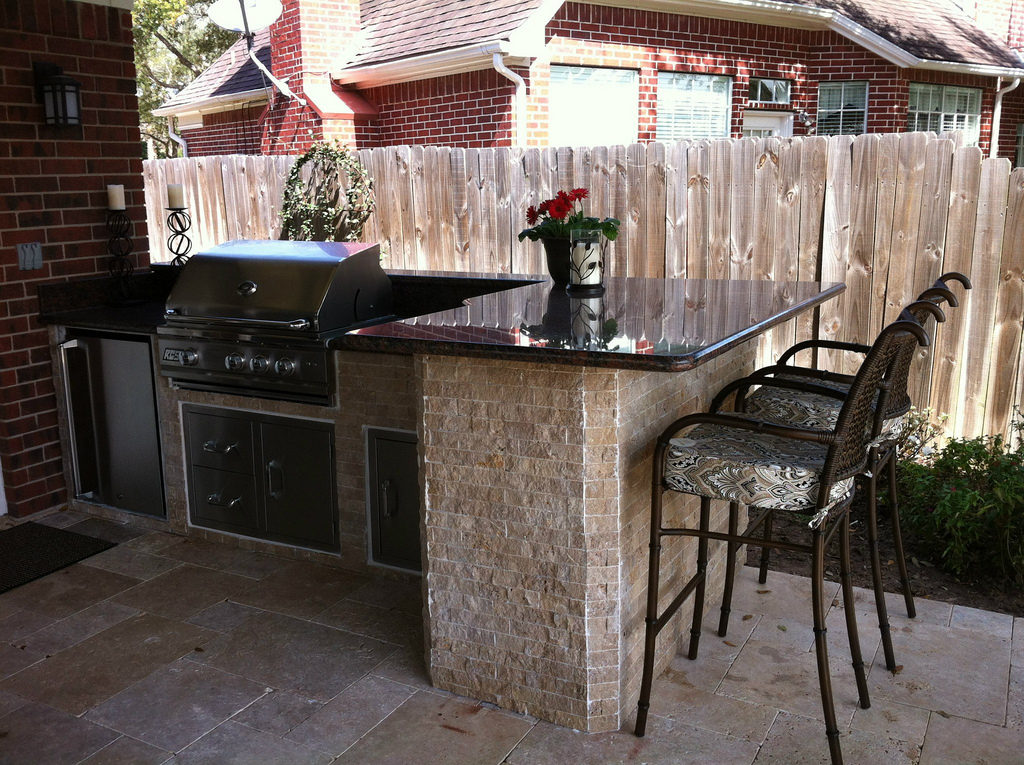 A Wooden Pool Deck
A surefire way to transform your pool area is with a contemporary wooden pool deck, which can modernize your pool while also giving it a spa-like quality.  Similar to an outdoor kitchen, the material you choose should complement your existing landscaping.  If you're able to weave these elements together properly, then your pool will have a unique, natural look that will make the old plaster surface seem like a relic of the past.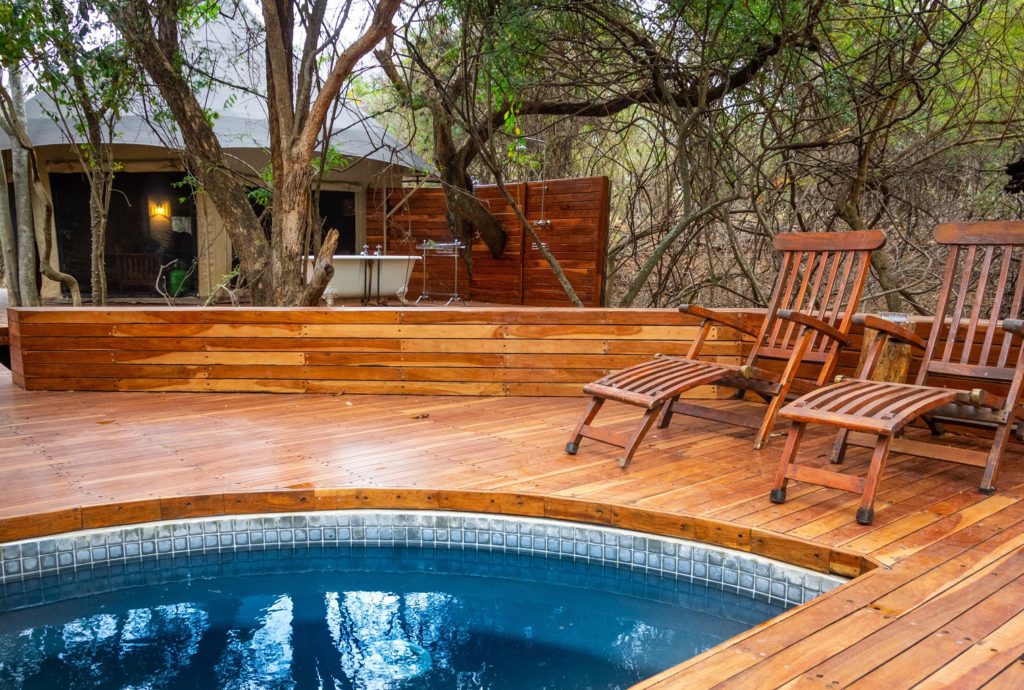 These outdoor repairs and living ideas are a terrific way to transform the look of your home before the better weather arrives.  Your best bet is to speak to an experienced home remodeling company about the type of projects that want to do and what they will entail.  The sooner you start, the sooner you'll be able to entertain family and friends in your new surroundings.