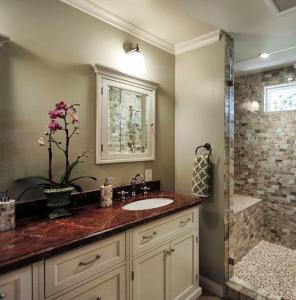 It is okay if some rooms are small – you just learn to work around the size of them. For example, if it is a tiny bedroom, well … you skip the king-sized bed, the chaise lounge and the clunky furniture. But, when it comes to a small master bathroom, or, if it is the Only bath in the home, and it is miniscule, there is no way you can subtract items from this equation. After all, you very well can't eliminate the toilet, sink, tub and/or shower, can you?
Illusion of a large bathroom
There are many ways to make your bathroom look larger. Here are some suggestions, from simple color fixes, to some renovation ideas:
Color scheme – Use the same colors throughout the bathroom. This not only applies to color, but also to texture. For example, light hues tend to expand an area, so, if you were to paint your walls and ceiling an identical color, it will really open up the area and make it appear much larger. If the bathroom is cramped because the ceiling is not flat, but cut up, or has irregular-looking angles, keeping one tone for walls and ceiling will help harmonize the room.
Tiling – Likewise, keep your sink backsplash tiles and shower tiles similar in tone to the walls and the floor tiles as well. The room will then look better visually, and the colors do not collide with one another to create color chaos in the small bathroom. You can be creative with the tiling in your shower in an effort to open up the area and make it look larger. For example, most showers have tile that only goes up to the top of the shower curtain area and the rest of the wall is painted. Why not consider tiling the shower area all the way up to the ceiling? As to floor tiling, here's a look that will make your bathroom floor seem endless: use the same tiling for floor and shower and meld them together so that the floor and/or shower floor area open up and create a larger-looking space.
Glass and mirrors – You may not be using "smoke and mirrors" to create the illusion of a larger bathroom, but, the use of glass or mirrors will also open up the bathroom area, making it seem larger. An opaque, textured shower door in an already-compact bathroom, will make that door seem like it is another wall in the room. Using a clear, glass-paneled shower door instead allows more light to enter the room and it will appear larger. As to mirrors, you can give the illusion that the bathroom is larger and more elegant looking simply by hanging mirrors that run the breadth of one entire wall or go right up to the ceiling. Mirrors hung high on the wall, not for peering into, but merely for effect, will also make the bathroom appear much larger. The use of lights on top of, or in front of, any mirrors will double the impact of the lights and make the room automatically look larger. Using low lights, like sconces or a dimmer switch, along with the mirrors, will create ambiance and an elegant look, similar to what would be found in larger and more-exquisite bathrooms or powder rooms.
Lighting – A little lighting goes a long way in a small room like a bathroom as you saw in the previous paragraph when lights are used in conjunction with mirrors. Not only will an extra, strategically placed light bulb or two help create the illusion that the room is bigger, but the extra bulbs provide task lighting. The sunlight streaming into the bathroom also helps open up the room as well. Often the bathroom only has one small window, and people are prone to having a heavy blind or curtains covering that window up to give them privacy. Try to get a translucent shade which is opaque enough to shield street eyes from the confines of your bathroom. If you don't have a window in the bathroom, then, if it feasible, try getting your natural light through the use of a skylight or solar tube. See your local bathroom remodeling expert in Fremont, California to find out if this look would be possible with your present bathroom structure.
Less is more
The traditional linen closet with a full-sized height door, severely hogs up space in your tiny bathroom. By eliminating the closet, and building a cabinet made to look like furniture in the room in its stead, you've gained space, lost that door that stretches clear across the entire bathroom, and given some character and pizzazz to this room.
If there is already a full-size vanity in the bathroom, why not consider getting a totally new look by repurposing an old dresser or bureau, which would have more drawers, but take up less space, and use it for bathroom storage purposes? It is a trending and practical look for your bathroom.
The luxury of a large, vintage, claw foot bathtub might not be a look you'll embrace for your tiny bathroom, so the efficient combo tub and shower will be the very best way to minimize the porcelain clutter in your small bathroom.
A pedestal-style sink takes up much less room and will be as functional as a larger style sink with all its plumbing, and will give your bathroom a very streamlined look, just as does the modern, low-to-the-ground, dual flush toilet. But your best bet for creating less space with the toilet, is to stray from the elongated bowl and go with a standard round bowl, thus saving at least three inches of space and some dollars as well.
So, now you, or a remodeling contractor experienced in bathroom design, has created a larger-looking bathroom and you didn't sacrifice one iota, so, why not treat yourself to an amenity or two which doesn't require adding anything large to your small bathroom? A mini-upgrade to your bathroom without the hassle and mess of a full remodeling job would be to include soft-closing toilet seat (easy on the ears because it ensures the seat always is closed after use and prevents the lid from slamming down), or, how about a heated toilet seat, just a comfy option for your bottom without breaking the bank. Sometimes those little things are really big things after all.