There's nothing like a fresh coat of paint to instantly improve the look of your home. A fresh paint job has the power to totally transform the look of your house in less time than any other remodeling project. That thin skin of resin and pigment also protects your investment, shielding it from sun, wind, and rain – until the paint begins to crack and peel. But if properly applied, new paint should last for a good 15 years. When painting the exterior of your house and other outdoor features, you have two important characteristics to keep in mind: how well it lasts and how good it looks.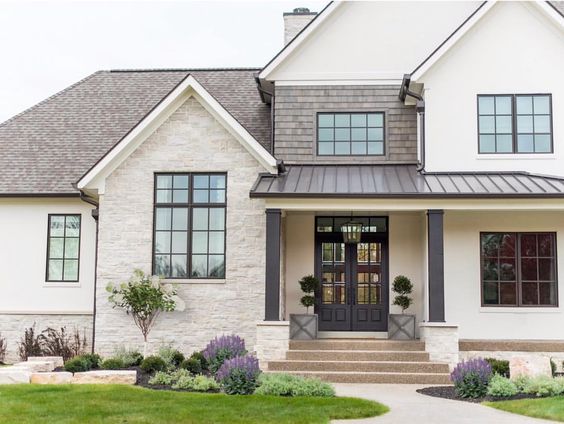 Stucco Home Exterior
Made of cement, lime, sand and water, stucco provides a hard, durable, weather-resistant outer surface to protect your home from elements. However, over time, stucco can suffer small chips, fractures, stains and fading and may need repair. Prior to painting, caulk cracks and small gaps using paint-able exterior grade caulk. When caulking, only fill the cracks and use a wet rag to wipe the excess caulk off of the wall, or it will stand out like a sore thumb. Add a little texture to the caulk to match the stucco. Pressure washing the stucco is a good idea prior to painting, it removes dirt and debris from the surface and ensures that paint will adhere well to the finish.
The type of paint you use on a stucco home is important. When painting stucco, you do not want to use a high-gloss paint. Stucco looks best with a flat or low-sheen paint. The best way to paint exterior stucco would be with a sprayer. It is much faster, uses way less material and provides a professional looking end result.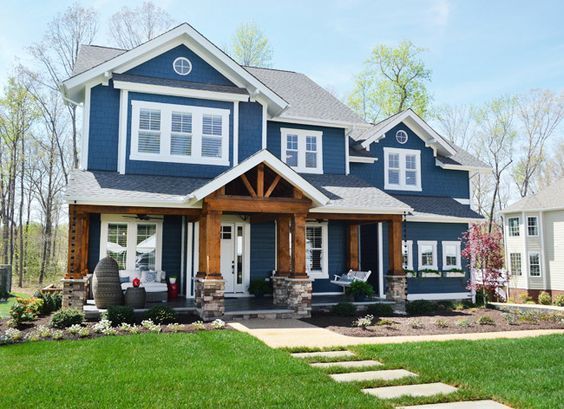 Wood Home Exterior
If you have wood siding, you know how great it looks when it's well-maintained. But I'm sure you've noticed how worn out it looks when time and the elements have gotten the upper hand. Before starting any painting, first you should fix any small issues with an exterior spackling compound. For larger problem areas, use a two-part polyester resin filler to repair any holes or damaged wood. Screw a loose siding, trim and accessories. Sand all loose paint with a hand sander to make it smooth and level with the surrounding wood. Then clean and wash the surface before painting.
Paint will not bond well to wood exposed by sanding. Primer should be applied to all bare wood and dried completely prior to painting. If you prime with exterior primer, the paint will last over a decade. Primers fill the pores in wood and firm a good adhesion base for topcoats. They're lightly pigmented to help the topcoats cover better. Use either alkyd or high-quality latex primer prior to painting exterior wood siding. Oil-based paints are the best option for wood siding.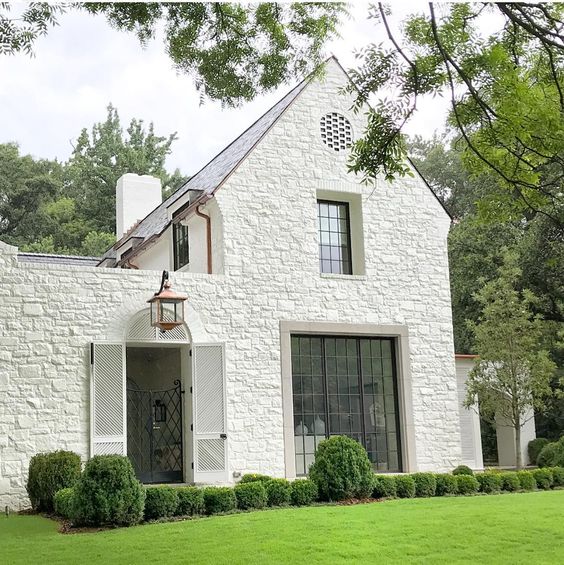 Stone Home Exterior
Brightening the appearance of a stone house façade is as simple as painting it. Several ways to paint/brighten up a stone house include regular exterior latex paint, whitewashing, limewashing, mortar washing and more. Whitewashing stones gives your home a rustic aesthetic look. Special masonry paint bonds with stone and mortar, and it creates a weather-blocking layer that can help seal out moisture. Prior to painting, clean the rock façade and let it dry. Dirt or other debris blocks paint from the actual stone of the façade, so it won't bond properly to a dirty wall. Then scrub non-residue cleaner made for exterior and rinse it with a garden hose. You should use self-priming masonry paint, but if you can't find it, apply a coat of exterior-grader primer first, and follow it with masonry paint.
Since stone has a neutral aesthetic, color schemes derived from it tend to be easy and noncoerced. Whether neutral or colorful, these schemes can work on nearly any style of home. You can go for earthy tones all together such as warm olive green, deep eggplant and ivory trim.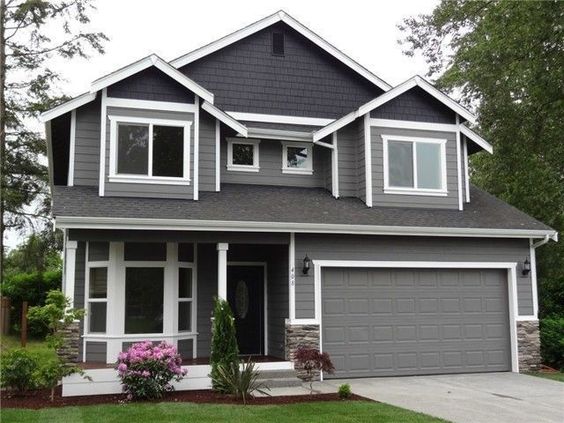 Vinyl Home Exterior
Painting vinyl siding is the cheapest alternative to replacing it. A vinyl siding paint job restores faded siding to improve the look and value of a home. Paint coating on vinyl, when applied correctly, typically last longer than on porous surfaces like wood that retain moisture. Applying vinyl paint is easy and can be achieved without the use of a brush and roller. Certain dark colors, particularly dark colors, may absorb too much heat, causing the vinyl to warp and peel. Generally, paint colors that are lighter than the original siding color are safe from warping. Most paint makes offer a palette of vinyl-safe colors.
A paint with gloss in it, such as satin, is best for painting vinyl. A glossy paint mimics the original gloss of the siding and will be easier to clean. Before painting it's imperative that you clean off any mildew or dirt on the siding. After careful cleaning, two coats of paint is all that is needed for adequate coverage and durability. Spray painting vinyl is the best application method.