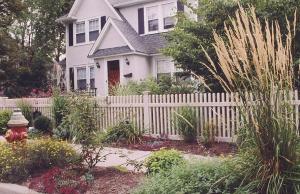 Breathe some new life into your home with an exterior paint job.
There's nothing like a fresh coat of paint applied to the exterior of your home to add curb appeal. Back in the day, the whole-house exterior paint job belonged to Dad. Every few years, it was his Summer vacation project, or a good part of it anyway, and he and mom had to keep their fingers crossed for good weather from start to finish. Then aluminum siding became popular and after that vinyl siding so Dad got a reprieve. He was overjoyed since the house looked good 100% of the time, not matter the season or the weather, with no effort on his part.
Despite the popularity of vinyl siding, there are still exterior paint jobs to keep the house looking good or for resale value. Perhaps your home has never had siding, so the house needs to be kept up with a fresh coat of paint as soon as it gets worn. And, even if you have siding, a fresh coat of paint is usually needed to freshen up trim, garage doors or decorative items such as shutters or window boxes. Perhaps the paint job pertains to revitalizing the deck. All are big jobs but they keep your home in tip-top shape and are great for resale value.
Just a few hints before you tackle that big exterior painting job.
Exterior painting is not for everyone. Unlike the inside of the house where the temperature can be controlled, you are subject to the elements. In a cold-weather state such as New Jersey, you don't want to paint in the Spring as it might still be coolish and it rains too much, Summer's heat and humidity makes it just a so-so season to get the job done, so early Fall is just perfect. Paint needs plenty of time to cure and rain is its enemy. Intense humidity seeps under your new paint job and will cause it to bubble. A whole-house exterior paint job is alot of work and you might want to consider hiring a professional exterior painter here in the _________________, New Jersey area. No fears of falling off the ladder or growing weary of the job at hand and making sloppy mistakes. It happens you know; you are working against a clock, Mother Nature and admittedly painting is not your forte. A professional contractor is used to painting outdoors and will have the daunting task done before you know it.
Sanding is the most-important prep job before you paint. In order for the paint to adhere, you must properly prepare the surface. Power washing or scrubbing the surface removes any dirt and mildew and sanding smoothes any rough edges before you begin the priming and painting or staining process. Any peeling paint will need to be removed by scraping it away and smoothing it out with resin, then primer.
Primer is a must-have. For a good-quality job, you should use primer before painting. It will encourage the paint to adhere better. Use an oil-based primer and top it off with latex or acrylic for a better seal.

Don't pinch pennies; buy a good-quality paint. You'll regret it later if you compromise on the quality of the paint by going with a cheaper brand. Lower-quality paint will not stand up to everyday weathering. Without the good protection against sunlight and cold temperatures, soon your new paint job will start to fade and lose moisture which will cause the paint to eventually crack. Plan on using two coats of paint to do a proper job. Top paint manufacturers, like Sherwin Williams, specify on all products that they recommend two coats of paint. This is essential for the paint to hold up over time. Two coats will outperform one coat in terms of durability, protection, washability and getting and retaining the true color. If you have multiple cans of paint of the same paint color, combine them into a large bucket and mix them together. This is known as "boxing the paint" and ensures you are getting a true and uniform color.
Now you're ready to pick your color and finish …
A variety of painting finishes for your exterior paint job awaits you. They are:
Latex. For easy-breezy clean-up, this type of paint finish is perfect for amateurs. If you are a messy painter, this product comes off with soap and water. It may be applied even on damp surfaces and is naturally mildew-proof. It is fast drying. It gets an "A" for durability as long as you don't apply too thin of a coat because you'll end up with bare spots. It may be incompatible with a previous oil-based finish, however.
Acrylic. The next-easiest paint finish to work with is acrylic. This is because it is actually a type of latex. Acrylic paint is a water-thinned paint which dries faster than most other paints and will cover almost any building material, including masonry and properly primed metal.
Alkyd. This type of paint finish is solvent-thinned, synthetic-resin paint. It has similar properties to an oil-based paint, but dries more quickly. It has excellent hiding power due to its thicker consistency.
Oil-based. Oil-based paint is preferred by most professionals for its durability but it does come with some perils. It has a very slow drying time (12 to 48 hours) which is troublesome as to an impromptu rain showers or bugs which might stick to the still-tacky surface. Clean-up time is messy for oil-based paint and the strong odor from the paint, as well as the cleaning solvents, will linger during and after the paint job is finished.
Stains. For decks or natural wood trim or siding on your home, stains with a solvent- or water-thinned base will provide transparent, semi-transparent, and solid finishes. Some products even include preservatives or offer a weathered look and may be applied just like paint with a brush, roller, or in a spray-on fashion.
When the exterior painting job is finally completed, your home will look like a jewel amongst the lackluster houses lining your block or located in your cul-de-sac and you'll be glad you made the effort to enhance its curb appeal. But, you'll be even happier if you decided to use an experienced exterior house painter and have saved yourself the effort.