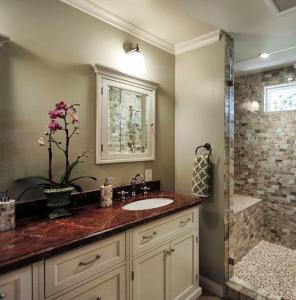 Whether you are purchasing replacement windows because you wish to spiff up your home, or, because the newer varieties of windows are so much more energy efficient, be advised that now there is a wider selection than ever of windows to meet every need.
Windows with triple panes will help provide significant savings on one of your biggest utility bills – that of your energy provider. Whether you are aiming to lower a high Winter heating bill or decrease the skyrocketing air-conditioning costs in Summer, windows with triple panes will cut energy use and you will be more money in pocket, realizing savings by your next energy invoice. Triple pane windows are like a sandwich – two heavy panes of glass with a type of gas in between the panes assist with insulation. You can never go wrong with getting the energy efficient windows on the market today because of cost savings to you and they increase the value of your home as well.
When having replacement windows installed, for the most part, they will all harmonize with one another giving a pleasing and uniform look to your home. That is – except for the bathroom window.
Depending on the location of the bathroom(s) in your home, special consideration must be given to what specific type of window you wish for the bathroom, i.e. the level of privacy that you desire. Do you want the option to be able to throw open the windows to let in the sunlight and fresh air, yet be able to also deter unwelcome peering or glancing into the bathroom by passersby and protect your privacy? Well, of course you would like both options.
Some of the window types currently available, strictly for use in bathrooms, are listed below. Depending on your neighborhood and your home's style and structure, you will need to peruse the window types to find the best one suited for your needs.
Options for larger bathrooms
If you have a large bathroom, your options are almost endless.
You can opt to have one large window, and turn it into the focal point of the bathroom. How? A cathedral-style window, with or without the Gothic influence, would be a window that is very tall and wide with an recessed arch, and would create a stunning effect in your bathroom. Café curtains in a semi-sheer fabric can be opened to let the sun filter into the bathroom and then just closed as needed for privacy.
If you're more of a traditionalist with your window style, a large rectangular window would let in just as much light, but is a tad less fancy or ornate. This type of window is guaranteed to beckon light to enter the bathroom and give you a good excuse to go shopping for exquisite window treatments to use when you need privacy from the rest of the world.
But, if you prefer the look of multiple clear-pane windows, as opposed to a sole window in the bathroom, there are options to create a wall of windows. A door wall, in addition to a full wall of windows, will permit you access to outside – maybe a balcony … and will give you even more natural light than you dreamed possible, but, bear in mind, the windows to the world are better left when your bathroom location is in an area where privacy does not become an issue. Imagine the natural sunlight filtering into the bathroom … you'll never want to leave, even on a cold Winter day.
The larger the window, the more opportunity to consider choosing a window design that is aesthetically pleasing, as opposed to boring and austere. Some of the options for a more exquisite-looking window are beautiful bay windows, or insets to windows which are either stained glass or frosted.
Options for smaller bathrooms
If your bathroom is on the small side, don't despair, as there are trending looks in replacement windows which will still permit the sunlight you might so desperately seek on a bleak Maryland inclement weather day, yet allow the privacy you need to have in a bathroom. A few examples are:
Built-in skylight – Here's an option for replacing a wide swath of the ceiling with a long skylight. A contractor, who specializes in bathroom window replacement in Howard County, would be able to advise if a skylight is feasible for your bathroom ceiling and whether this small room could become bathed in natural light. A plus is that you'll never worry about window treatments either, or, he might show you how a solar tube or sun tunnel might be an alternative option.
Security for your bathroom
Security can be an issue inside and outside the house. Beautiful big windows are wonderful for gazing to the outside or welcoming in the sun's rays, but could be dangerous if windows are located too close to a shower or bath or adjacent to a door. Be sure to ask for tempered windows as that type of window, should it ever be shattered, will just break into small and crumbly pieces, as opposed to large and dangerous shards of glass.
If security in your neighborhood is an issue, don't fret because glass block windows are the answer to your problem. Glass block windows will thwart any robber because they are virtually impenetrable, yet they permit the light to flow into the bathroom. The glass blocks may be plain or patterned. Additionally, they provide ventilation in the bathroom with a horizontal vinyl screen which is easy to open and close, and, which lever is only available on the inside of the window and never accessible from the outside. Glass block windows can be put in any configuration, and, may be as small or large as you want, i.e. use them to provide a few feet or yards of light or even a large area of a wall if you desire. The important concept is that glass block windows offer total privacy from the outside. Another plus is that because they are so airtight into the wall that the likelihood of any water damage is nil, not to mention by design, they are guaranteed to cut your energy bill down by 20% to 25%.
So, what are you waiting for? Explore the options of replacing your staid bathroom window(s) with modern replacement windows or glass block windows today.