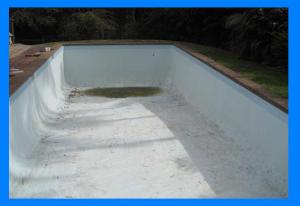 Nothing makes you wistful for the lazy, hazy, crazy days of summer more than the seemingly endless winter that everyone who lives in a cold-weather state must endure. Even warming up next to a blazing fire will not even come close to conjure up sunny images of you in and around your pool.
If you noticed at the conclusion of "pool season" that your backyard pool was getting a little worn around the edges, did you despair as you thought about the cost and mess of getting a new pool?
You probably pushed that thought clear to the back of your mind. There are, however, several ways for you to take your existing pool and area and update and renovate them to a state-of-the-art and much more-modern backyard paradise.
Update and renovate
Many people in the past have sought refuge in their backyard in-ground pool as a means to work off the stress of the day, or perhaps, just to take a refreshing dip on a hot summer day. When you initially purchased your in-ground pool, you most likely just shopped at a local pool manufacturer and kept it simple by simply purchasing a pool, a ladder and a diving board. While that has sufficed many years, you do have the ability to update your pool by working with a pool designer to integrate some fun and trending ideas into your existing pool and pool area.
Backyard can be a paradise
There are a variety of ways to enhance your backyard pool and surrounding pool area. Some of them are just easy, do-it-yourself projects that lend a touch of whimsy while you lounge around or take a plunge. These enhancements may be a simple bubbling sphere, a sprinkling fountain or a vertical plane waterfall, all which can just be purchased at a big box home improvement store. All are fun ways to add a pick-me-up to the pool area and can be done yourself, even without the aid of an electrician. You can even string some lights for added special effects, again … a simple DIY project.
But, if you are aiming for something more beautiful, rather than just whimsical, for your in-ground pool and surrounding area, you might want to consider some of the trending waterscape ideas. These are more complicated ways to enhance the pool and will need to be done by a contractor who specializes in pool design or construction. Such a contractor is found right here in nearby Greenwich.
Enhance the pool
If you are just looking to add a tweak or two to your existing pool, you might consider just adding some floating objects to the surface of the pool water. One of the latest trends is to create a fire-and-water effect. Imagine a dark summer night and the pool area is ablaze from huge fire bowls positioned around your pool's perimeter. The bowls not only have fire but are simultaneously creating a cascade of water for added effect.
Another option to add some pizzazz to an existing pool is going for the tropical paradise or oasis effect. With the addition of a mini-spa or whirlpool tub, which essentially is attached, or off to the side of the main pool, you have a little room for creativity. How handy is that close proximity of another water feature, so that you step out of the pool, right into the spa or whirlpool?
If you desire, a pool designer and landscape design contractor can work together to create a brand-new setting for your backyard pool. Perhaps you would like the existing pool to just blend into the rest of the yard. This is very doable. A landscape design contractor can blend the pool right into the background via a natural scene. Perhaps just a rustic setting, with huge boulders and a pretty waterfall which cascades down into a pebbly stream, or maybe even a lush tropical setting. Even an oasis in your backyard where you can sink into an adjoining spa or whirlpool that is part of the pool and poolside setting.
These exciting ideas can add new dimensions to your pool in ways you never dreamed possible. Why settle for a boring cement rectangle in your backyard living space, when you can create a paradise out back instead?
Add a sprinkling fountain or a cascading waterfall so that you can sink into the water and relieve the day's stress while listening to the water droplets hitting the surface of the pool water.
A few enhancements
Of course, if you were to choose buying a brand-new, in-ground pool, to pair with those water features mentioned above, that would be great, because you'd have many more options for your backyard paradise. You could consider, as an example, purchasing a fiberglass pool. If you go the route of a fiberglass pool, then you have the option of choosing any style or shape of pool and there are many. So, that way you are not limited to strictly a rectangular shape.
You can opt for different settings for the pool and/or patio and deck area, whether you opt to use your existing pool or choose a brand-new pool. A brand-new pool might give you more space in your backyard living area, if that is something you might desire.
You have also got the option to create your own sandy shore in your backyard. How is this doable? One of the edgiest concepts today is a new pool edge – no, really. You can create the look of a shoreline by eliminating the ladder or steps one usually uses to gain access to a pool. Instead of climbing into the pool in the traditional way, the entrance to the pool is a gradual slope, an incline, if you will, in which you can just walk right into the water. It is like wading at a sandy shore and wiggling your toes in the water and sand. This naturalistic concept, while it is very unique and a fun idea, does take up much space in your backyard and a little difficult to create, but, on the practical side, not only is it a clever and unique idea, but it is good for seniors and small children, rather than having them utilize a pool ladder to access the pool in the usual manner.