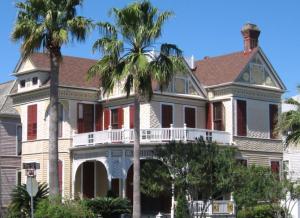 Victorian-style homes are so named for the period of history when Queen Victoria ruled Britain (1837-1901) and industrialization brought many innovations to architecture. There are a wide variety of styles of Victorian homes, each with its own ornate and distinctive features. If you are lucky enough to be the proud owner of a Victorian home, you already know that it is quite a formidable task to repaint it. The colors have to be just perfect, because a Victorian home should not have its beauty diminished in any way by a poor paint job.
Painting a Victorian home
So, how does one go about repainting a 19th century home in 21st century colors? Do you keep it simple and subtle or do you go for a wow factor? Perhaps you've just maintained the status quo with your Victorian home's color combination all along, thinking it was safer that way; but, you can experiment, and go a little brighter and bolder, without forsaking any of the traits that make a Victorian home so unique. If you're in doubt while choosing the potential paint color, why not consider consulting with an exterior house painter in Suffolk County. He or she can counsel you on the primo color for your palace and maybe you'll decide to let that same person do the paint job for you – painting the façade, ornate trim, decorative gables and porch spindles is not an easy task and best left for the professionals.
So how to you pick a color
Depending on the particular home, you can decide to go soft and subtle or beautiful and bold. The row of "Seven Painted Ladies" houses on the corner of Postcard Row in San Francisco is a good example of how subtle works. Each house looks very individual, despite the fact that they seem to be identical architecture and similar color. The houses are entirely out of wood, so there is extensive painting to be done on the house itself as well as the elaborate trim, etc. Though most Victorian-style homes are made entirely of wood, they are often covered with decorative shingles. Most Victorian-style homes have complex color combinations where one of the colors is usually repeated through portions of the porch portico, spindles or front gable.
Not all Victorian-style homes are embellished with bold colors or elaborate flourishes. Sometimes people favor a Victorian home with no embellishments, and retain only the sweeping porch and subtle or bland colors only. This is known as a restrained Victorian home. But these are not as common as the Victorian style which we embrace for its color and exquisite qualities. The paint colors today wouldn't want to mimic the original colors of Victorian homes as they were mostly reddish hues and browns because the colors were created from natural pigments containing ferric oxides. You do see vibrant reds now, but they are nothing like their predecessor colors. The Victorian homes today are reminiscent of the popular Queen Anne style, with elaborate architectural design and synthetic pigments which creates colors in vibrant blues, greens, purples and yellows, and these same colors are often recreated and used in today's painting projects.
Another common style from the original Victorian homes was a tri-color combo: a dark house, light trim and vibrant accent color. This is the traditional tri-color combo which, through the years, has been recreated to look like the original Victorian homes. Now, you can recreate them yourself by using Behr paint. One of Behr's most-popular Victorian home color combos is predominantly painted in grayish-blue, white trim and rusty red accents. The colors are Skipper (house), Divine Pleasure (trim), and Burnished Mahogany (accents).
The variations of the hues of the various homes, which are so carefully restored and then painted to resemble their original colors, can exhibit as many as four or even five different color combinations, depending on the particular architectural style and the size of the home.
One of the more-popular two-tone color schemes for Victorian homes is blue and when it comes to blue anything goes. It might be a sky blue or an energetic darker blue hue. The color blue for Victorian houses is often a cheery color and paired with a traditional vintage-look cream trim which makes for a winning color combination. Sherwin-Williams also dabbles in paint colors recommended for exterior painting of Victorian homes and they weigh in with Georgian Revival Blue (house), Extra White (trim), and Pennywise (accent).
Finally the second most-popular color combo in the paler hue category, also by Sherwin-Williams, is Sea glass-colored shingles, set off by a creamy white trim, and pale Blush accent. It strays from the traditional variations of the Victorian home hues, but is light, bright and very inviting.
Whatever look you choose for your beautiful Victorian home, think about consulting and hiring a professional exterior house painter to keep that little Gingerbread gem looking like the original perfect specimen from back in the day.