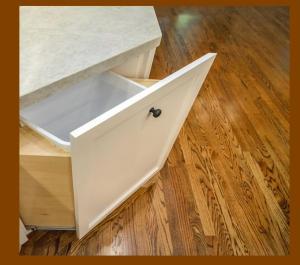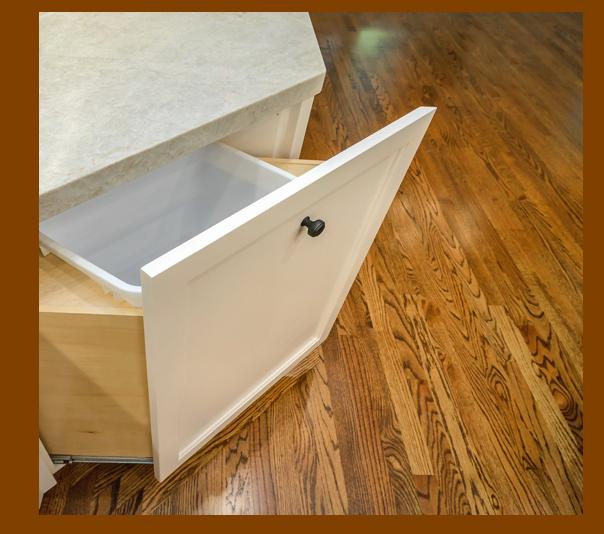 The average family has one go-to room that is the hubbub of activity in the home, and that room, undeniably, is the kitchen.  Moms will despair over keeping the kitchen floor clean, unless they are blessed to have a mudroom or a vestibule of some type where the family can rid themselves of wet clothes, shoes or boots and the family dog can get his muddy paws wiped.
Your perfect kitchen, whether it contemporary or country cozy, deserves the perfect flooring material to complement the rest of the room.  But, do you go with durable and functional flooring or something with a little pizzazz?  If you figured it's either one or the other, well … you were wrong.  Below you will find some trending kitchen flooring ideas.  But, if you'd like to see an expanded list or more options, be sure to consult with a kitchen renovation specialist in Atherton.
Types of Flooring
There are five basic types of flooring suitable for kitchens:  tile, vinyl, hardwood, laminate and concrete.  Depending on the wear-and-tear in the kitchen, you can pick and choose any of these and expect durability.  Let's take a look at each of them with an eye toward your particular kitchen.
Tile
There are two options within the popular tile category:  ceramic and porcelain.
Ceramic tile gets an A+ because it is the perfect fit for all budgets and styles since there are many options to choose from as to color, size, shape and pattern.  Ceramic tile works well whether your kitchen is contemporary or country.  It is a durable flooring material and is very easy to clean.  The less-admirable features of ceramic tile are that it is unpleasant to stand on it for long periods of time, and over time, tiles may crack.  When wet, tile floors may be slippery.  While the maintenance to keep ceramic tile clean is minimal, re-grouting and special cleaning to keep away stains must be performed periodically.  Cost is: $3.00 to $8.00 per square foot, uninstalled.
Porcelain tile is a subordinate of ceramic tile and likewise is available in a wide variety of colors, size, shapes and patterns.  Porcelain tile is created with color all the way through the tile, so damage is less likely to show.  High-definition printing techniques are now able to recreate tiles that replicate natural materials like hardwood and stone. Unfortunately, porcelain tiles, though touted for their durability, are likewise not a good option for long periods of standing and the use of a soft rubber mat would be encouraged for aching feet or legs.  Like ceramic tile, periodic applications of sealers and special coatings to grout and tile, respectively, is recommended to keep the product looking like new.  Cost is:  $2.00 to $4.00 per square foot, uninstalled, but specialty porcelain tiles will cost more, usually $6.00 to $14.00 per square foot, with hand-painted tiles costing upward of $75.00 per piece.
Vinyl
Another durable flooring option is vinyl.  There are a wide variety of colors and patterns and they are available in either tiles or sheets. Although professional installation is always recommended, it is one medium for kitchen flooring that is considered a DIY project as the tiles or sheeting is easy to cut and may be installed right over an existing floor. Vinyl floors are easy to clean and cushy for those who must stand a long period of time.  Vinyl floors are usually warrantied for 15 years or longer.  Unfortunately, though vinyl floors are considered durable, they are easily scratched or gouged.  Another unfortunate feature of vinyl flooring is that it is manufactured with PVC which causes it to emit VOC, an unhealthy chemical compound, into the air when the flooring is new.  Cost is:  $1.00 to $5.00 per square foot, uninstalled.
Hardwood
There has been a resurgence in natural wood flooring in recent years for new, as well as, remodeled homes.  The most-popular wood types are oak, maple, cherry and mahogany.  Hardwood floors give a homey feel to any kitchen and this style blends seamlessly with the rest of the home.  On the plus side, it is considered a good investment and will increase the value of your home.  Unfortunately, however, wood floors are susceptible to water damage and scratches.  Hardwood floors are considered durable, but do require some maintenance, such as regular waxing, and they must be resealed every five or six years.  Cost is:  $5.00 to $12.00 per square foot, uninstalled.
Laminate
If you admire the look of a hardwood floor, but that type of flooring is out of range budget-wise, you might want to consider laminate flooring, which comes in realistic-wood styles in dark or light wood, bamboo or stone.  Laminate flooring can be installed directly over existing flooring, significantly reducing labor costs, plus it is inexpensive – even less costly than tile.  It is considered durable and less prone to scratches and marring unlike natural wood flooring.  Despite its durability, water is laminate's #1 enemy and any water exposure will cause the floor to buckle or warp.  Laminate has a shorter lifespan than tile or natural wood flooring because it cannot be refinished.  Cost is:  $1.00 to $6.00 per square foot, uninstalled.
Concrete
A popular, low-maintenance option for a high-traffic kitchen is a concrete floor.  You can't beat concrete flooring for durability.  It repels water, is easy to keep clean and resists scratches and chips.  Concrete can be mixed and set using a variety of dyes for color and textures for effect.  On the down side, if you must stand a lot in your kitchen, you might be uncomfortable.  Anything dropped on the floor, you might as well consider gone, as it will likely break into smithereens.  Concrete floors must be sealed or waxed at least once per year, depending on the level of traffic.  Cost is:  $3.00 to $6.00 per square foot to polish a plain gray slab to an attractive sheen; enhancements such as dying or texturizing the cement will cost anywhere from $5.00 to $17.00  per square foot.
Whatever option you choose, make sure it is a perfect fit for the daily crowd that gathers in the kitchen for its meals or to stay connected with one another.