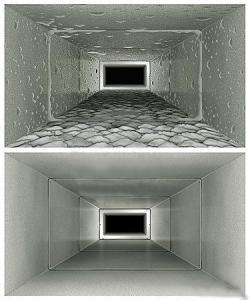 Fewer things can annoy the lady of the house more than dust on the furniture. You might recall the advertisement several years ago, where the mother-in-law swipes her dainty white glove along the top of a piece of furniture in her new daughter-in-law's home and discovers dust and shows her the dirty tips of her gloves. Understandably, the new bride is chagrined and red-faced and I'm sure it didn't start the relationship off on the right foot.
If you have dusty ducts in your home, even the most-fastidious housekeeper will never-ever have a completely dust-free home. There are ways to try and keep the dust at bay, using specially treated dust cloths that act like a magnet to attract dust, or taking the registers off and swiping down and vacuuming up the dust inside. But, if you really want to ensure your home is dust-free, your best bet is to have the air ducts cleaned every three to five years. The process takes about two to three hours and costs approximately $400.00 to $800.00, depending on the size of the home and the particular contractor.
Keeping your air ducts dust-free is a must if you have allergy or asthma suffers in the house. Likewise, a person who might have mold allergies would also be susceptible to the microorganisms that live in the ducts in your house.
Is air duct cleaning a long involved and messy process?
If you've been putting off hiring a contractor who specializes in air duct cleaning because you fear it will make a mess throughout your home while the process is being done, please know that the procedure is not messy and the benefits greatly outweigh any of the minor inconveniences you may have to endure.
Most homeowners who have worked with a reputable air duct cleaning contractor in Hoboken are so pleased with the results that they schedule repeated visits to keep their homes looking good and environmentally uncontaminated.
Air duct cleaning
Besides that nasty little film of dust that seems to settle everywhere in your home, especially on the dark furniture, there are other reasons why you should have a professional cleaning of the air ducts in your home.
The Environmental Protection Agency, or EPA, recommends cleaning air ducts when:
It is also smart to have professional air duct cleaning for the following reasons:
Upon building a new home or after completing a major home remodeling project. Construction projects spread sawdust and drywall dust throughout the home. Despite contractors' best efforts to protect the ducts, the dust will extend into the ductwork, too.
If you are a pet owner and have one animal that sheds or have many pets in the home shedding fur and dander, a professional air duct cleaning will surpass your best home=cleaning practices to keep the fur and dander from spreading throughout your home.
Benefits of air duct cleaning.
The EPA's studies on the benefits of air duct cleaning shows the reduction of microorganisms such as mold and bacteria.
Air duct cleaning process
Most people think an air duct cleaning service is simply an industrial-sized vacuum cleaner that will be whooshed over your vents and will suck up the majority of dust that cannot be reached, like if you were to remove the registers, for example, and use the hose of your canister vacuum to clean the excess dust.
A reputable air duct cleaning contractor will ensure that the cleaning process will address every aspect of your home's duct system that air passes over, including the furnace, air coils and central system. It's not just sticking a vacuum over the vents.
Over the course of a few hours, the cleaner will direct the dust and debris in your ducts to an outside vacuum that is mounted on a huge truck.
A bonus from the procedure
A professional air duct cleaner can run a test using forced air to check for leaks. While cleaning the ducts, an inspection can be made to see if there are any leaky ducts, which result in higher utility bills, and could expose a family to dust, mold or other unwanted contaminants.
Extra sanitizing and deodorizing
Some air duct cleaning contractors also provide a service for disinfecting and deodorizing your home through the ductwork. The product often used, Sporicidin, is a mold remediation product, often used in hospitals, doctors' offices and veterinary clinics to ensure no bacteria or contaminants are present. The use of Sporicidin will kill bacteria, viruses, mold and mildew and even eliminate odors for up to six months guaranteeing superior air quality for any household occupant, especially those who have a compromised immune system or suffer from allergies or asthma. It is also beneficial to a homeowner who has incurred water damage in the house, particularly the basement. This product may be applied by a fogging system and is entirely safe. It is not necessary to leave the home while the product is being applied, as it stays in the ductwork and not in the rest of your home.