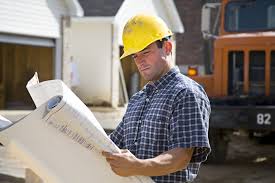 Your contractor: will it be a match made in Heaven?
When you decide you want to revamp your home with a remodeling project that is far beyond that of the typical do-it-yourself endeavor, it is time to seek the services of a professional contractor. With resources galore on the internet available to you at the click of a mouse, it is no longer necessary to just "let your fingers do the walking" or go "eeny-meeny-miny-moe".
There are no educated guesses here because 1) you will pay your hard-earned money to get the job done, hopefully to your satisfaction; and 2) you need to find someone who is going to be your partner in this project from the initial consultation phase through to the end. So that you ensure you will be thumping your contractor on the back for a job well done at the project's conclusion, here are a few suggestions on how to streamline the process and guarantee that you've got the perfect match for the project at hand.
Educate yourself
Scooping up pamphlets at home remodeling shows or perusing interior/exterior decorating websites will give you a basic knowledge of what your entire project will entail. Be sure to research several sources to get a feel for what is involved and even the lingo, so that your initial consultation with the contractor does not leave you feeling out of the loop or even intimidated.
Vet the contractor
This is the most-important phase of the project. Unless you receive a contractor's name or business through word of mouth, you have to do a little legwork to check out, or vet, the contractor. Here is some criteria to use as a guide when choosing a contractor:
Credentials – In most areas, contractors need to be licensed. Ask to see the license. Sometimes a work order or an invoice will contain the contractor's license number. If they have an office or showroom, expect the license to be displayed. You can call or check online with the appropriate agency for licensure information. Go to http://www.contractors-license.org/ to verify contractors by state. Additionally, Angie's List is also a popular site to check out potential contractor's credentials, including whether they are licensed, bonded and insured, but there is a small fee involved for doing so. http://www.angieslist.com/contractor/license-bonded-insured.htm. Go even one step further by calling the Better Business Bureau or local consumer affairs agencies to determine if there are complaint histories for the contractor you are considering. One or two complaints need not necessarily deter you, but more than that – find another contractor.
References – Don't be shy and do ask for references. Pursue checking out those references by calling prior customers and asking questions about the contractor's workmanship, reliability and responsiveness both before and during the project. Ask to see photographs of completed jobs, and, if possible, go to view those exterior or interior projects. Check out just-finished projects as well as not-so-recent jobs to see how they are holding out. Why not compile a list of questions to ask previous customers about how your proposed contractor handled the job? You should feel free to ask the following:
Was the professional flexible and willing to bend to your needs, wants and desires as the project progressed, or, did the contractor consider himself/herself the one in charge?
How was the rest of the team, i.e. the subcontractors or crew members, to deal with throughout the pendency of the project?
Trust – The adage of getting everything in writing is wise. Before you sign on the dotted line, ensure that any and all questions on your part have been asked and answered. Important contract criteria that should be spelled out includes the budget and/or payment schedule, project starting date and targeted completion date, permits to be obtained, warranties, how many subcontractors will be used, and dispute resolution procedures (hopefully, somewhere that you'll not need to tread). Don't just "wing it" … get the details in writing and make yourself a checklist of these specific items to take to the initial consultation.
You should never feel intimidated or pressured
Above all, don't let yourself get lost in the hustle and bustle of your remodeling project. Though you will probably grant carte blanche to your contractor to some extent, it is YOUR house and YOUR money, so, ultimately, it is up to you to ensure everything goes the way YOU want it to.
Before the project
Ask your contractor to schedule a pre-construction meeting and request that all key players be in attendance. Familiarize yourself with the subcontractors who will be utilized – there might be a design builder, interior designer or an architect involved in the different phases of the project. This pre-construction get-together might be the last opportunity to go over the plans and schedule and to determine who is doing what throughout the project. Also, this would be the best time to clarify whether contractors have access to your bathroom or driveway. Plan to meet with the contractor often to review progress and ensure that everyone stays on task. Always remember: if you have questions or are unhappy with the progress during its duration, be sure to speak up, and do not be intimidated by the process, nor the workers who bring their expertise to the job. Any deviations from the original plan or decisions ultimately need to come from YOU.
The happy ending
Proper planning for your project will yield the best result and that much-coveted remodeling dream will finally morph into reality before you know it – that's because you made the wise decision to seek out a contractor which was the perfect fit for your project and YOU.