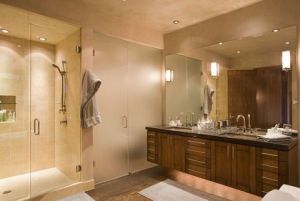 Now that the outdoor-type fun is quickly drawing to a close, your weekend activities include more visits to the mall and hitting all the home shows. Since you're apt to be hunkering down inside the house more in the coming months, I'll bet that remodeling bug has bitten you. If you picked up some pamphlets of trending ideas for the bathroom because you've toyed with the idea of doing a little renovation, one of the more-striking ways to update and revamp your bathroom is by choosing a new vanity– not just an ordinary, run-of-the-mill vanity from a big box home remodeling store, but a custom-built vanity. There's a bathroom design showroom in New Jersey where you can peruse custom-made vanity designs, which will guarantee the vanity will be the focal point in your bathroom. How about taking a look at what is trending these days for bathroom vanities?
Trends in bathroom vanities
The size and style of your vanity will largely depend on the size of the bathroom and any existing structures within the bathroom that will not or cannot be moved around like the toilet, tub and/or shower. A custom-built vanity may be tailored to fit into the existing available space, i.e. using your current sink plumbing, and function as a stand-alone vanity and perhaps add a new sink bowl to complement the color tones of the bathroom. Or, you could opt to get a modern-looking, pedestal-style sink and get a new, stand-alone vanity that you would use exclusively for storage purposes. It might be a simple, wood-grained design or even resemble an elegant piece of furniture, or, it may be an imitation of an expensive antique or vintage design. If a claw-foot bathtub is the central item in your bathroom currently, why not have a vanity specially created to mimic the authenticity of that bathtub?
To take the notion of working a new vanity into an existing vintage or antique bathroom setting a little further, there are other options besides a custom-made vanity to create that look. If you are a person who enjoys attending estate sales, or antiquing is your hobby, you might want to be on the lookout for certain period pieces of bedroom furniture such as dressers or bureaus which can be repurposed as the "the real deal" to complete the antique or vintage look you are striving for. You can keep the dresser, even with its mirror, which could then function as a dressing table or just as a storage piece and remove the mirror and place it at or near the dresser. There are various ways to accommodate authentic furniture like this into the bathroom. Another contemporary look is "open shelving" which is just as it sounds – shelves, for which their contents are visible because there are no doors. Now, this look is not for everyone, especially if you're the messy sort.
Console vs. modular vanity styles
Another option for a contemporary vanity is a custom-created design which will entirely line a wall of a long and narrow bathroom. This is called a console-type of vanity. Another popular style for bathroom vanities is more modular in nature, and would be utilized for a rectangular or square bathroom shape. Both console and modular types of vanities may be custom-built by a cabinetmaker, or, may also be purchased already finished in various dimensions which will accommodate your bathroom size and shape, and only needs to be configured to your available space. As mentioned, modular types of vanities are various stand-alone pieces. You can choose as many stand-alone vanity pieces as can fit into the available space in your bathroom. You can place them side-by-side or stagger them around the room, because, although these vanity pieces may actually be different styles or shapes of vanities, all of the pieces are the same color or design and were create by the same manufacturer to complement one another.
If you don't know whether to be wowed or floored by this modular vanity concept, just think of this trend in bathroom vanity design to be similar to how a dresser, bureau and night table are all different types of bedroom furniture, but they match one another (and often your bed), and, together they provide a totally coordinated look in the bedroom.
It should be mentioned that both the console and modular styles are available to accommodate a sink, or, if you prefer, to be utilized for storage only.
The larger the bathroom that you have, the more choices that are available for the above-mentioned vanity types, and the shape of the bathroom is an important factor as well, especially if there are angular portions of the bathroom which will automatically cut off available placement of the pieces. And, of course, the larger the console vanity, or more vanity modular pieces that you collect, your storage room may be multiplied tenfold! With this seemingly endless storage room now, you might even opt to forsake your bathroom closet in favor of a larger console vanity or even one more modular piece.
If you are modernizing your vanity, then you might as well revamp the sink as well, because an old, stained or chipped, or plain white sink, will certainly look out of place. Sink bowls now comes in a wide variety of styles and colors and you are not just limited to white or beige. You can either match the color of the vanity, your existing bathroom colors or accessories, or go for a totally new look like the frosted glass basin. There are no worries with this translucent sink bowl as to whether the color will match and/or compete with other colors in your bathroom, because the clear bowl will harmonize 100% with everything.
So, if you are looking to update your bathroom to give it a more stylish or contemporary look, or simply to add storage space in this tiny room, why not stop in at your local bathroom design showroom today?