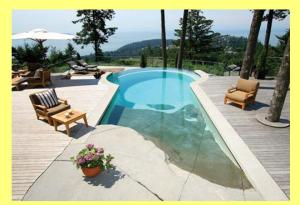 Here in the U.S. there is a frenzy of activity from before Thanksgiving to the end of the year – holiday shopping and endless get-togethers and soirees with family and friends.
It is a whirlwind month and then suddenly everything calms down and a long winter stretches before you. Those temps and snow didn't seem so bad to get you in the holiday spirit, but now they are, quite frankly, annoying.
Why not help to instill a little happiness in your psyche to get through the next few months by thinking summer thoughts? If swimming is one of your favorite activities, why not consider getting an in-ground backyard pool of your own? If you've banished the idea from your mind before as you thought you didn't have the space to accommodate a full-sized backyard pool, you might want to rethink that idea.
A pool tailored for you
Today's backyard in-ground pools are not like the pools you remember in the past. Pools of yesteryear were just a rectangular area which encompassed most, if not all, of your backyard living area. Well … pool manufacturers have taken your dilemma to heart. They do understand that swimming has many health benefits and many people would like to fit such a regimen into their daily routine. Who wouldn't like to reap the benefits of improved strength and well-being, a superior cardiovascular workout and the crunching of calories into their daily exercise regimen?
The purchase and installation of an in-ground pool admittedly is a big expense. But, it is a large, one-time expense, except for the minimal maintenance expenses that are necessary to maintain this valuable investment. Not only will this pool be an outlet for you and your family and friends to gather and enjoy yourselves without the need of using a public or community pool, but it will add value to your home as well.
There are a variety of pools that you can choose from if 1) you have a small backyard living area, or 2) you have beautiful landscaping and do not want to sacrifice it for the sake of a pool. So read on and just dive in and explore the possibilities of getting a pool installed in your own backyard come spring.
Pools for a healthy lifestyle
Whether your doctor has advised that a warm water regimen in the pool will benefit your arthritis or you want a pool strictly for fitness, you have a few options. A swim spa is a hybrid-type of pool which combines the benefits of both a pool and a spa. It contains water jets which cause resistance and a swimmer must swim against the flow of water. It provides an excellent cardiovascular workout. A lap pool is an ideal choice as well and takes up minimal room in your backyard as it is long and narrow to allow for swimming laps. So, if your main reason for purchasing a pool is not for lounging around soaking up the sun and the occasional dip, then either a swim spa or a lap pool is the perfect choice for you.
In conjunction with that healthy lifestyle, you can also opt for a saltwater pool as opposed to the traditional chlorinated treatment for your pool water. With the trend toward going green, why not eliminate as many chemicals as possible and enjoy your hours in the pool without nasty, irritating chemicals which could harm you?
A pool for fun in the sun
As mentioned above, if you pushed the idea of an in-ground backyard pool to the back of your mind as you didn't want to forsake beautiful landscaping, that need not be a concern any longer. Today's pool design trends allow you to mesh the pool right into the backdrop of a beautiful backyard setting. In other words, a pool can be an item of aesthetic beauty in your backyard, not a deterrent from it. A good landscape contractor will work with an expert who specializes in pool design in Stamford, and together they will create a setting which will be pleasing to the eye and not an eyesore in your beautiful backyard.
Pool can be beautiful
Your beautiful landscaping may be preserved and integrated into a pool setting. The task is for an experienced landscape contractor to merge your trees, bushes, and yes – even your prized perennials, otherwise termed as softscape, right into the ultimate pool and deck setting, or hardscape. You may choose any number of "settings" for your pool paradise, all which will not forsake your nicely landscaped backyard area, and that will still give you the pool that you covet. The effect will be natural – a waterfall tumbling over rocks and ending up in a pebbly stream or perhaps an oasis or a tropical lagoon. The pool will not just be a boxy-looking cement object, but may be constructed with a rustic or pebbly texture, or perhaps a sloping incline instead of traditional ladder steps which in turn melds into the sand for a beach look – there are endless other special effects, all guaranteed to create a natural look in your backyard. Even the traditional use of a ladder or diving board may be eschewed in favor of boulders used for climbing up high and a rocky ledge to dive from. Now, how unique is that?!
Plan ahead for summer now
Why not peruse some backyard pool designs online today, then contact Shoreline Pools in Stamford and see how they will help you accommodate swimming into your lifestyle and a pool into your backyard as soon as possible?